Behind the scenes
In spatele fiecarei imagini cu mine sta ceea ce deja stiti prea bine: o viata hiper-activa, un Radu care ma sustine, ma intelege si ma alinta, un Vladut care imi fura si inima si energia, un business pentru care muncesc mult si la care tin chiar si mai mult si un blog de care sunt absolut dependenta!
EN: Behind every picture of me there is something which you already know too well: a hyper active life, a supportive Radu, who understands and caresses me, a Vlad who steals my heart and energy, a business which I work hard for and which I really care about and a blog I am absolutely addicted to!
Incerc sa fiu genul de persoana care nu se lasa dezarmata usor si mi-am dat seama ca ma bucura enorm cand pot sa fiu motorasul din spatele celorlalti. Desigur, uneori devine si treaba asta epuizanta, asa ca iata, ma incarc cand plec prin lume doar cu un rucsac in spate si cu baietii mei. Probabil ca din acest punct de vedere se poate spune ca am o personalitate duala: Dana careia ii plac lucrurile sofisticate si elegante, dar si Dana care poate sa plece fara probleme o luna de zile cu rulota pe drumuri straine fara sa-si ia la ea nici macar un produs de machiaj! Iar aceste doua laturi ale personalitatii mele traiesc intr-o armonie absoluta in mine, pentru ca una o alimenteaza pe cealalta – cand oboseste una, cealalta e odihnita si gata sa intre in scena. Ma ajuta si ma echilibreaza sa imi dozez spiritul aventurier cu responsabilitatile si dorinta de a ma bucura de lucrurile fine.
Placerile mele zilnice insa sunt aceleasi pentru ambele Dana: imi place ca orice fac sa nu uit sa-mi presar ziua cu ceva bun. Nebunia aceea cu oamenii care sar peste orice rasfat imi este complet straina, iar pentru mine aceasta gustare (nu micul dejun) este cea mai importanta masa a zilei! Asa ca Oreo este de multe ori nelipsit din casa, iar acum vine in cea mai interesanta forma, un biscuit subtire si crocant: Oreo Crispy& Thin! Eu il mananc la cafea, ceea ce va recomand si voua!
Puteti sa mergeti si pe pagina oficiala Oreo pentru un GIF tare simpatic cu mine!
Am purtat: bluza și blugi H&M, geaca piele Asos, încălțăminte & Other Stories.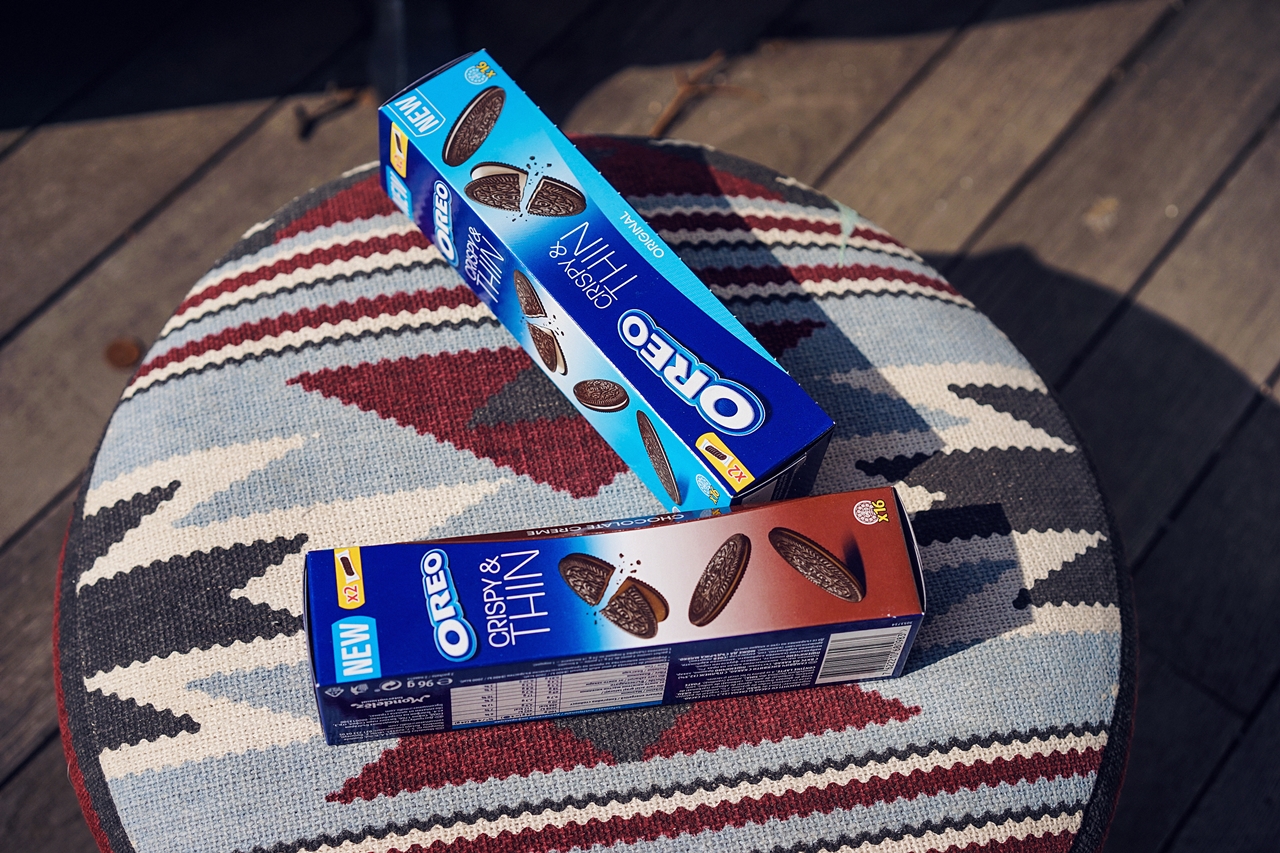 EN: I try to be the type of person who doesn't get easily discouraged and I realized how happy it makes me to be the little engine behind everyone else. Of course, this sometimes gets exhausting, so here I am, recharging while backpacking through the world with my boys. I guess you might say I have a double personality: Dana who likes sophisticated and elegant things, but also Dana who can easily leave for a month in a trailer on foreign roads without packing a single make up product! And these two sides of my personality live in perfect harmony inside me, because one fuels the other- when one gest tired, the other one is well rested and ready to enter the stage. I helps and balances me to make up for my adventurous spirit by taking care of responsibilities and enjoying the finer things in life.
But my daily pleasures are the same for both Danas: whatever I do, I never forget to indulge myself with a treat. That craze with people who skip every delight is completely strange for me, and for me this snack (and not breakfast) is the most important meal of the day! So Oreo is usually in the house, and now it has the most interesting shape, a thin and crispy biscuit: Oreo Crispy& Thin! I eat it with coffee, which I also recommend to you!
You can to the official Oreo Facebook page to see a really nice GIF with me!
I have worn: H&M top and jeans, Asos leather jacket, &Other Stories shoes.
Comments