Moon Organic TSHIRT
Nu ca e al meu, dar pur si simplu ador tricoul cu fete detasabile Moon Organic TSHIRT. De fiecare data cand il port sau vad pe altcineva purtandu-l, parca il redescopar si efectiv nu ma mai satur de el.  Fata de modelul clasic, cel organic are o textura mai fina, dar si o croiala diferita. Pentru mine, e cel mai cool si mai original tricou din cate am vazut vreodata, asa ca mandria e pe masura (pe masura S, M, L, XL).
EN: Not that it's mine, but I just love the detachable cover Moon Organic TSHIRT. Each time I wear it or I see someone else wearing it, I seem to rediscover it and I just can't get enough of it. Compared to the classic model, the organic one has a smoother texture, but also a different tailoring. To me, it's the coolest and the most original t-shirt I have ever seen, so my pride comes in the according size (sizes S, M, L, XL).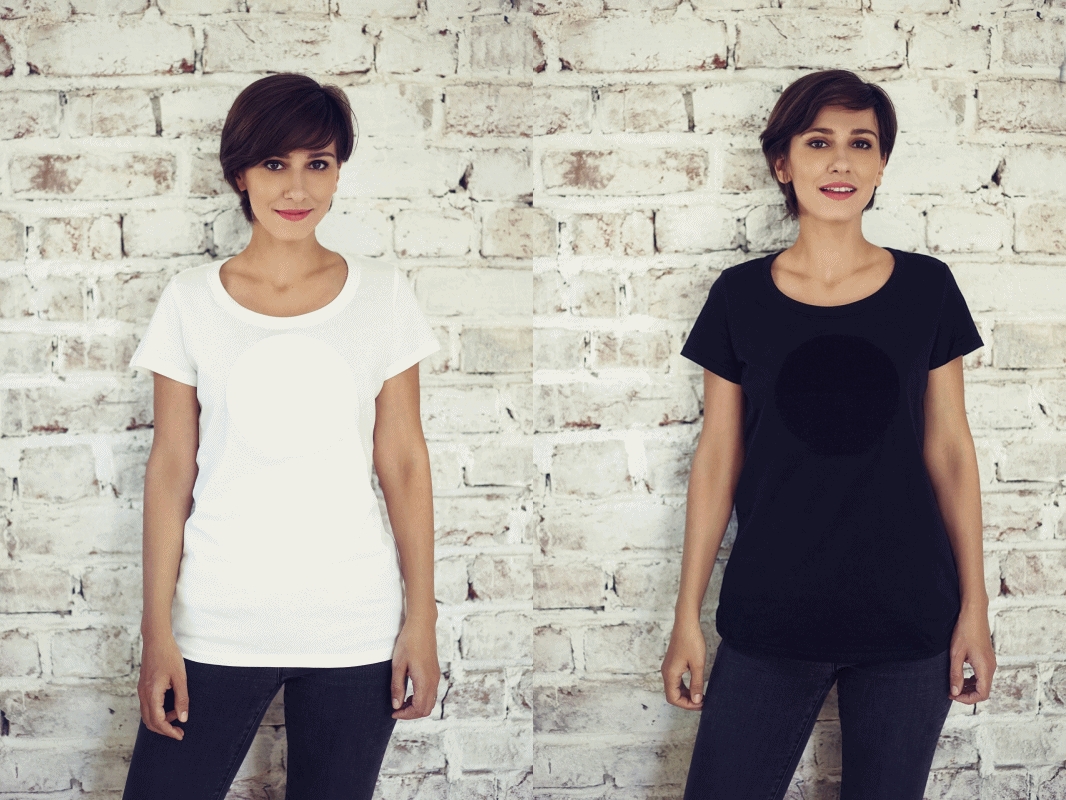 Ideea acestui tricou mi-a venit pornind de la conceptul ce sta la baza gentilor Moon, si anume cel de "fete detasabile". Moon TSHIRT este un tricou pe care il poti personaliza si il poti purta in fiecare zi cu o "fata" noua. Tricoul de baza vine cu un kit al lui, in care veti gasi mai multe forme din velcro, ce pot fi aplicate pe discul principal. Un design unic, minimalist, ce oferta posibilitati nenumarate de personalizare. Moon TSHIRT poate fi purtat atat intr-o tinuta casual si jucausa (aplicand de exemplu un emoticon pe discul principal) sau intr-o tinuta de cocktail (aplicand o forma minimalista).
In imaginile de mai sus port Tricoul cu Fete Detasabile din bumbac 100% organic: OCS – certified organic combed cotton, adica o tehnologie noua, prietenoasa cu natura si o calitate foarte buna a materialului. Pe discul pricipal pot fi aplicate mai multe forme din velcro, ce se gasesc in kitul de baza ce insoteste fiecare tricou cumparat. Este un tricou cu o croiala clasica, putin mai cambrat fata de modelul UNISEX si cu un guler mai subtire, mai feminin. Tricoul se spala la 40 de grade, fara aplicatiile din velcro montate, ci doar in forma lui de baza.
Tricourile Dama pot fi comandate cu oricare dintre masurile S, M, L, XL. Spre deosebire de modelul clasic Moon TSHIRT, acesta are o croiala mai lejera, iar gulerul este putin mai larg.  Sfat: Daca la tricou oscilati intre S si M de exemplu, recomand sa alegeti masura S la Moon Organic SHIRT si masura M la Moon TSHIRT modelul clasic. Eu port in poze masura S.
Moon Organic TSHIRT Dama WHITE  poate fi cumparat de aici la pretul de 90 lei (kitul de 12 forme este inclus in pret: 2 semicercuri, 4 arcuri de cerc, doua buline mici, 4 linii drepte) . Moon Organic TSHIRT Dama BLACK  poate fi cumparat de aici. Desigur, si domnii pot avea tricoul lor din bumbac organic – Moon Organic TSHIRT Unisex WHITE poate fi cumparat de aici la pretul de 90 lei. Iar Moon Organic TSHIRT Unisex BLACK de aici.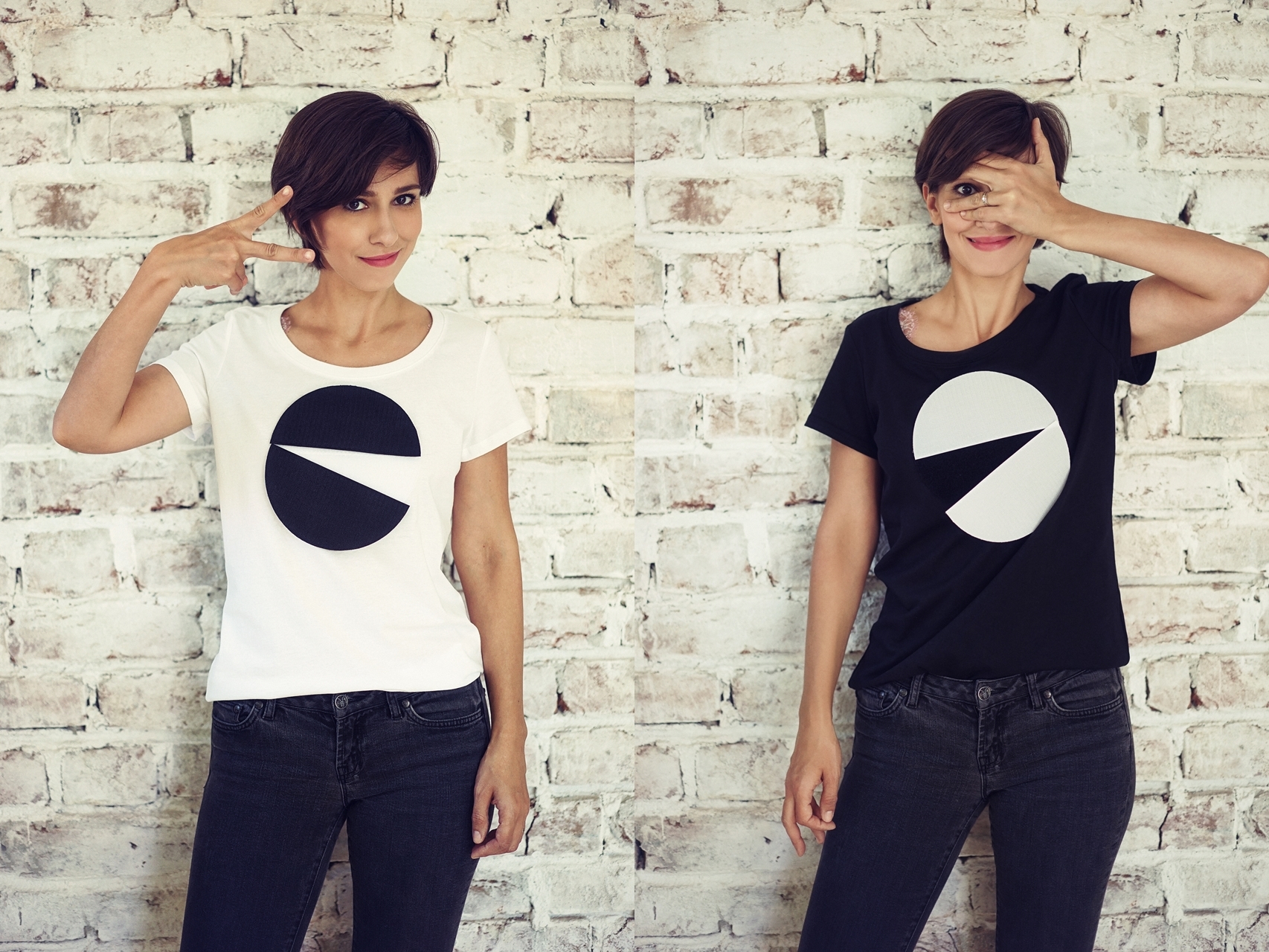 Mai sus aveti doar cateva propuneri in care puteti aseza formele detasabile pe care le gasiti in kitul de baza ce insoteste fiecare tricou, dar si formele pe care le puteti cumpara de aici (inghetata, inima etc). Mai multe idei puteti gasi pe magazinul online moonbydanarogoz.ro. Desigur, odata ce veti avea propriul vostru Moon TSHIRT, creativitatea va va fi pusa la incercare, asa ca felul in care veti alege sa purtati tricoul va depinde numai de voi. Caci se stie: Moon este oglinda ta. Mi s-a intamplat de foarte multe ori sa vad acest tricou purtat cu fete detasabile la care nu m-am gandit nicio secunda: fluturi, copii, zodii, numere sau chiar fenomene meteo…
Povestea Moon continua!
EN: The idea behind this t-shirt came to me from the concept which defines the Moon bags, meaning the "detachable covers". Moon TSHIRT is a t-shirt which you can personalize and wear every day with a new "face". The t-shirt comes with its own kit, in which you will find a couple Velcro shapes, which can be applied on the main disc. A unique, minimalist design, which offers numerous personalization possibilities. Moon TSHIRT can be worn both in a casual and playful outfit (by applying an emoticon on the main disk) and in a cocktail outfit (by applying a minimalist shape).
In the pictures above I am wearing the T-shirt with detachable covers from 100% organic cotton: OCS – certified organic combed cotton, which is a new technology, nature-friendly and with a very good fabric quality. On the main disk you can apply many Velcro shapes, which can be found in the basic kit which accompanies each t-shirt bought. It's a t-shirt with a classic line, a bit more tailored than the UNISEX  model and with a thinner, more feminine collar. The t-shirt can be washed at 40 degrees, without the Velcro shapes applied, just in its basic shape.
The women t-shirt can be ordered in every size S, M, L, XL. Unlike the classic Moon TSHIRT model, this one has a more casual tailoring, and the collar is a bit wider. Advice: if you are somewhere between S and M when it comes to t-shirts, I recommend you choose size S for the Moon Organic SHIRT and size M for the Moon TSHIRT classic model. In the pictures I am wearing size S.
Moon Organic TSHIRT Woman WHITE  can be bought from here at the price of 90 lei (the 12 shapes kit is included: 2 semicircles, 4 circle arches, 2 small dots, 4 straight lines). Moon Organic TSHIRT Woman BLACK  can be bought from here. Of course, gentlemen can have their own organic cotton t-shirt – Moon Organic TSHIRT Unisex WHITE can be bought from here at the price of 90 lei. And Moon Organic TSHIRT Unisex BLACK from here.
Above you have just a few suggestions as to how you can place the detachable shapes which you can find in the basic kit, which accompanies every t-shirt, but also the shapes which you can buy from here (ice cream, heart, etc.). You can find more ideas on the online shop  moonbydanarogoz.ro. Of course, once you have your own Moon TSHIRT, you can put your creativity to the test, so it's only up to you how you decide to wear the t-shirt. Because it's a fact: Moon is your mirror. I saw this t-shirt being worn with some detachable covers I never had thought of: butterflies, children, numbers or even weather phenomena…
The Moon story goes on!
Comments