Cand ajungeti in Moon Studio
Ne-am intors in Moon Studio, cu mai multe informatii legate de produsele pe care le puteti gasi aici, in afara celor din colectia Moon, desigur. Daca trebuie sa cumparati urgent un cadou inedit, creat de un designer roman, s-ar putea sa-l gasiti chiar aici.
EN: Back to Moon Studio, with more information about the products you can find here, besides those from the Moon collection, of course. If you have to buy a unique gift right away, made by a Romanian designer, you might find it right here.
Asa cum ati vazut, pozele de mai sus sunt de la cea mai lunatica petrecere – Moon 4 ani. Ce destrabalare! Zilele trecute ne-am reamintit eu si Ramona, colega mea de la Moon Studio, de aniversarea celor 4 ani sub forma unei petreceri in pijamale, cu masaje, cu manichiura, cu sangria, cu muzica din anii 2000 si dans pana dimineata. Dar sa revenim cu picioarele pe Pamant, caci pe Pamant se afla – culmea – si Moon Studio, mai exact la adresa Str. Alexandru Donici nr 38. Vizitarea lui se face exclusiv cu programare pe comanda@moonbydanarogoz.ro. Daca ne trimiteti un mail in care ne scrieti ca vreti sa veniti sa vedeti produsele noastre, ca vreti sa descoperiti pe viu acest spatiu care gazduieste acum mai multi designeri romani de produs, noi va vom raspunde cat de repede cu un mail de confirmare, astfel incat atunci cand veniti sa aveti toata atentia noastra.
Asadar, in afara produselor Moon – care pot fi cumparate inclusiv de pe magazinul online moonbydanarogoz.ro – adica gentile cu fete detasabile, lumanarile cu ravas, tricourile clasice si cele organice cu fete detasabile sau parfumul, Moon Studio gazduieste si produsele altor designeri romani. Este o selectie personala ale unor produse care, prin originalitatea lor, prin conceptul creativ care sta la baza lor, se potrivesc ADN-ului brandului Moon, deci se pot intelege perfect ca vecine de apartament.
Sa incepem cu produsele pentru copii:
Cubul Ferecat by Mormi – copiii vor petrece ore în şir descoperind cum funcționează fiecare încuietoare. După ce îi vor fi dibuit toate secretele, îl vor transforma în ascunzătoarea preferată, colţ al imaginaţiei şi al jocului de rol, loc secret de păstrat mici obiecte şi jucării.
• 5 uşi x 4 încuietori diferite pot distra şi provoca pentru perioade lungi de timp. Copiii vor fi amuzaţi şi fascinaţi concentrându-se să găsească singuri modalități de manevrare.

• Stimulează înţelegerea relaţiilor cauză–efect şi interior–exterior, dezvoltă abilitățile motorii fine şi cu siguranţă îi va ajuta pe cei mici să se adapteze ușor la obiectele din lumea celor mari.

• Lucrat manual din piese şi materiale rezistente, fără plastic, fără luminiţe sau zgomote stridente, Cubul nu are nevoie de baterii pentru funcţionare. Are greutate mică şi nu are mâner pentru a-i obişnui pe copiii mici să se coordoneze în transportarea unui obiect cu ambele mâini. Fiecare încuietoare este un obiect în dimensiuni reale.

PRET: 220 lei
Cartile senzoriale Quietbook by Agent MOM – realizate din fetru colorat de 2 mm, sunt asamblate manual in Romania si sunt lavabile manual. Ele reprezintă nu doar un joc creativ si repetitiv pentru cel mic, ci si o metoda de descoperire a mediului inconjurator si de exersare a motricitatii fine a copilului.
Cele doua modele de carti senzoriale prezente in Moon Studio sunt structurate in 2 volume a cate 12 pagini, respectiv 9 activitati diferite pentru fiecare carte. Cartile au dimensiunea de 15/20 cm (1/2 A4) si se preteaza atat fetelor cat si baietilor cu varsta de pana la 5-6 ani.
Ultima poza e dovada clara ca produsele pentru copii sunt mai mult decat tentante. Continuam cu ideile de cadouri pentru cei mai mari de varsta, care apreciaza designul romanesc creativ: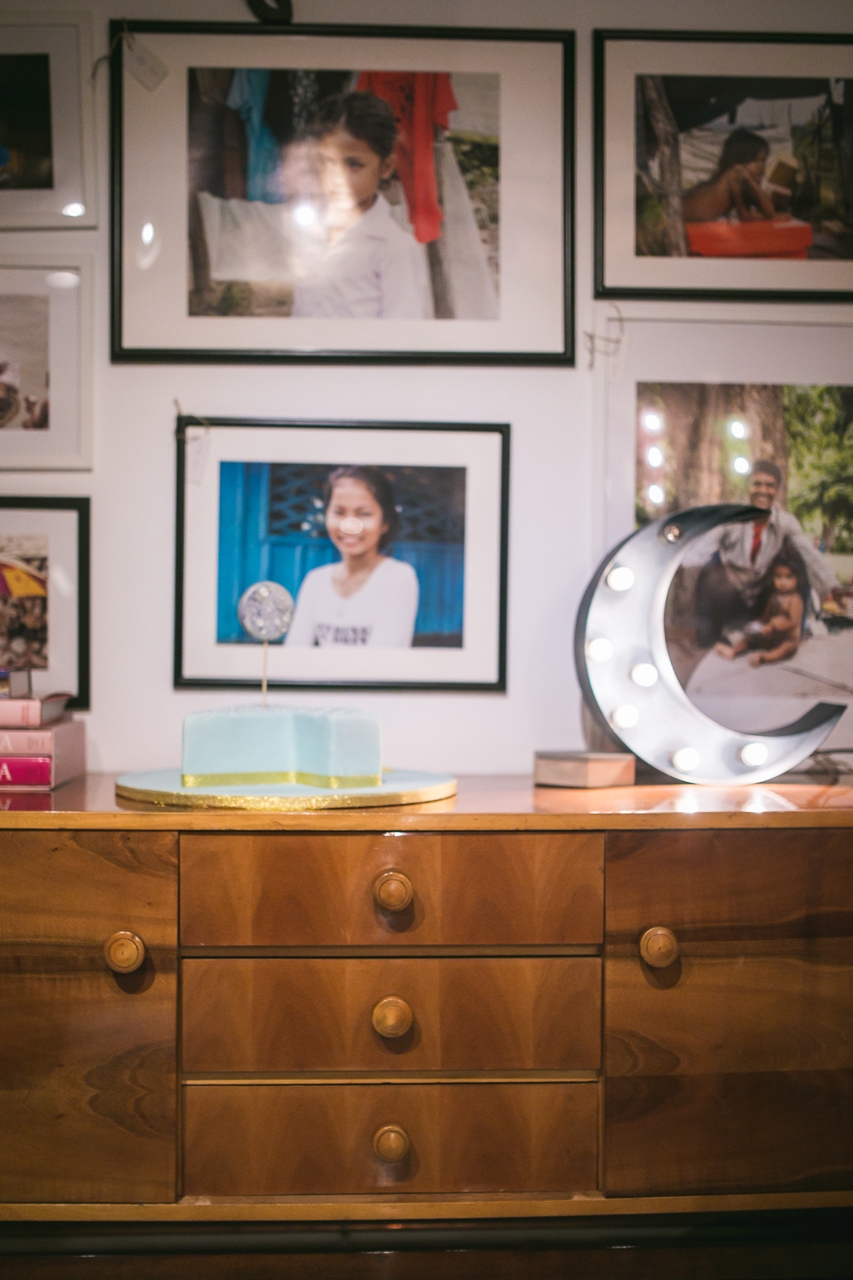 Litere si Forme Luminoase by Fabrica de Litere – mi se par perfecte pentru a oferi oricari incaperi un plus de farmec, de personalitate. Si va mai dau un pont: pot fi folosite ca decor la evenimentele speciale din viata voastra. Se aprind exact ca o veioza, de la intrerupator, si sunt dintr-un metal rezistent. In momentul de fata in Moon Studio puteti gasi la vanzare literele "a" (1 bec – PRET 280 lei) si literele mari "F" si "K" (cu cate 3 becuri – PRET 330 lei). Si, pentru ca suntem in Moon Studio, puteti gasi la vanzare si Luna (7 becuri mici – PRET 420 lei), care este mi – nu – na -ta! Aceste produse pot fi un cadou indeal pentru o aniversare, o nunta, un botez… sau "de casa noua".
Fabrica de litere este prima fabrica din Romania in care cuvintele prind viata. La un an de la infiintare, Fabrica si-a lasat deja amprenta in multe proiecte de amenajare interioara si semnalistica. Creatiile luminoase au o "datorie" aparte, aceea de a crea o atmosfera placuta in fiecare spatiu in care sunt amplasate si de a pune un zambet pe chipul oricui, de aici si moto-ul #litere la datorie.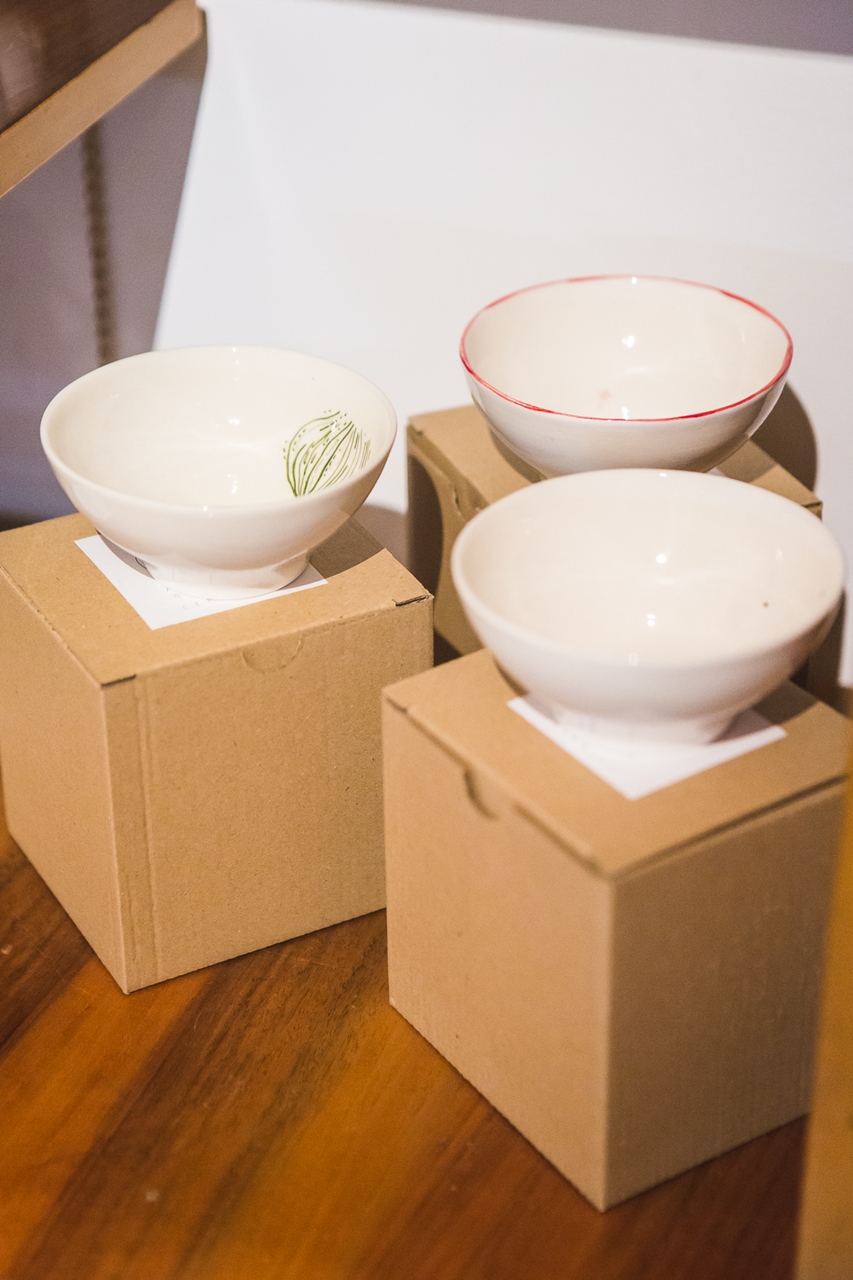 Boluri de ceramica pictate manual by Madalina Andronic – pe Madalina daca ajungi sa o intalnesti, e genul de persoana de care nu vrei sa te mai desparti. E o placere pur si simplu sa stai sa o asculti povestind despre arta ei:
Sunt Madalina Andronic, ilustrator si creator de obiecte si accesorii decorative din ceramica. Gasind inspiratie in natura, reprezentari naive si magie, imi place sa creez obiecte din portelan pictate manual in serii mici, pentru case si suflete. Mereu indragostita de motive decorative delicate, vii si distinctive, pictate pe formele usor neregulate ale portelanului laptos, cred ca viata ca un vis minunat vine din gesturi mici, zilnice, gustate si simtite din obiecte calde si speciale, asa ca fiecare piesa de ceramica este gandita ca o experienta speciala, incantatoare pentru orice inima si spatiu.

Pentru cea dintai colectie am creat un set de esential format din obiecte de vesela precum boluri pentru gustari, boluri de supa, boluri de salata, pahare mici si mari, platouri si boluri de fructe. Paleta cromatica de baza consta in tonuri de rosu, verde si albastru, cu intensitati variate si grade diferite de transparenta. Acest aspect iti permite asortarea sau combinarea obiectelor de vesela pentru a crea fie seturi moderne, contrastante, fie alaturari elegante, intr-o singura nuanta. Pentru ca fiecare piesa din portelan este mestesugita printr-o serie de pasi (turnare, finisare, ardere, decorare, glazurare si ardere finala), micile neregularitati in forma si decoratie intensifica placerea unica a fiecarei experiente cu obiectele  mele.

In Moon Studio se gasesc la vanzare boluri medii – PRET 100 lei.
Romanii sunt creativi si pusi pe treaba. Asadar, ma bucur ca Moon Studio poate gazdui o parte dintre produsele lor.
Era sa uit de tablourile cu fotografiile din calatoriile mele, din India sau Cambodgia, care pot fi si ele achizitionate, direct sau la comanda, preturile variind in functie de dimensiune si rama de la 50 la 150 lei. Nu sunt fotograf, iar imaginile inramante din Moon Studio nu au fost gandite pentru a fi vandute. Nicidecum! Dar pentru ca multa lume care intra in Moon Studio ma intreaba de ele, am ajuns la concluzia ca pot fi un cadou accesibil deosebit, mai ales ca fiecare fotografie vine insotita de povestea din spatele ei.
Va asteptam pe la noi cu programare la comanda@moonbydanarogoz.ro.
Iar cat de curand, voi anunta cand sunt "usile deschise" la Moon Studio, mai precis in ce zi puteti veni de dimineata pana seara fara programare.
EN: As you have seen, the pictures above are from the most lunatic party – 4 years of Moon. Yesterday, Ramona, my colleague from Moon Studio, and I remembered the anniversary pajama themed party, with massages, manicures, sangria, music from the 2000's and dance until morning.  But coming back down to Earth, because that's where Moon Studio is, to be more precise on Str. Alexandru Donici nr 38. It can only be visited by appointment at comanda@moonbydanarogoz.ro. If you write an email saying that you want to come over and see our products, that you want to discover this space which now hosts a few Romanian product designers, we will get back to you as soon as possible with a confirmation email, so that when you do come, you can get all our attention.
So, besides the Moon products- which are also available online moonbydanarogoz.ro – meaning the clutches with detachable covers, the fortune candles, the classical and organic t-shirts or the perfume,  Moon Studio also hosts the products of other Romanian designers. It's a personal selection of some products, which, through their originality, creative concept, fit with the DNA of the Moon brand, so they make really good neighbors.
Let's start with products for kids:
The Sealed Cube by Mormi – kids will spend hours in a row discovering how each lock works. After they will find out all its secrets, they will transform it into their favorite hiding place, imagination and role play corner, secret place for keeping small objects and toys.  
• 5 doors x 4 different locks can entertain and challenge for long periods of time. Kids will be amused and fascinated while concentrating to find their own methods of handling.  

• stimulate the understanding of cause- effect and interior- exterior relationships, develop fine motor skills and will definitely help the little ones to easily adapt to objects in grown-up world.  

• handmade with resistant pieces and fabrics, without plastic, lights or loud noises, the Cube doesn't require batteries. It is light and doesn't have any handle to learn children how to carry it with both hands. Each lock is in real life size.

PRICE: 220 lei
Quietbook by Agent MOM – made from colored 2 mm felt, they are assembled manually in Romania and can by washed by hand. They are not only a creative and repetitive game for the little one, but also a method for discovering the environment and for practicing fine motor skills.
the two models presented in Moon Studio are structured in 2 volumes with 12 pages each, meaning 9 different activities for each book. The books come in size of 15/20 cm (1/2 A4) and are suitable for both boys and girls up to 5-6 years.
One of the pictures is a clear proof that the products for children are more than tempting. An now we continue with gift ideas for grown- ups, who appreciate creative Romanian design:
Luminous Letters and Shapes by Fabrica de Litere – I think they are perfect for giving every room extra charm and personality. And let me give you another tip: they can be used as decorations for the special events in your lives. They can be turned on just like a night light, from a switch, and are made from a resistant fabric. At the moment, in Moon Studio, you can find the letters "a" (1 bulb – PRICE 280 lei) and "F" and "K" (3 blubs each – PRICE 330 lei). And, since we are in Moon Studio, you can also find the Moon (7 small bulbs- PRICE 420 lei), which is wonderful! These products can be an ideal anniversary, wedding, Christening… or "house warming" gift.
Fabrica de litere is the first Romanian factory in which the letters come to life. After one year since its formation, Fabrica has already left a mark in many interior design projects. The luminous creations have special "duty", which is to create a pleasant atmosphere in each space they are placed in and to put a smile on everyone's face, hence the motto #litere la datorie.
Hand painted ceramic bowls by Madalina Andronic – once you get to know Madalina, you'll see that she's the kind of person you don't want to separate from anymore. It's a real pleasure just to sit and listen to her talking about her art:
I am Madalina Andronic, illustrator and creator of ceramic decorative products and accessories. Finding inspiration in nature, naïve and magical representations, I like to create hand painted porcelain objects in small series, for homes and souls. Always in love with delicate decorative motifs, alive and distinctive, painted on the slightly irregular shapes of milky porcelain, I think that life as a wonderful dream comes from small, daily gestures, tasted and felt from warm and special objects, so each ceramic piece is conceived as a special experience, enchanting for every heart and space.    

For the first collection I have created an essential set made from snack, soup, salad bowls, small and large glasses, fruit plates and bowls. The chromatic is made up from tones of red, green and blue, with varied intensities and different transparency grades. This aspect allows you to match or combine pieces to create either modern sets, contrasting, or elegant pairings, in a single tone. Because each porcelain piece is manufactured in a series of steps, the small irregularities in shape and decoration intensify the unique pleasure of each experience with my objects.

In Moon Studio you can find medium bowls – PRICE 100 lei.
Romanians are creative and willing to work. So, I am happy that Moon Studio can host a part of their products.
I almost forgot about the paintings with pictures from my travels, in India or Cambodia, which can also be bought, direct or by order, prices varying according to size and frame from 50 to 150 lei. I am no photographer, and the photos framed in Moon Studio weren't meant to be sold. No way! But since a lot of people coming to Moon Studio ask about them, I have come to the conclusion that they can be a special affordable gift, especially since each photo comes with the story behind it.  
We are expecting you with a prior appointment at comanda@moonbydanarogoz.ro.
And pretty soon I will announce when the doors are open at Moon Studio, more precisely what day you can come over from morning until evening, without an appointment.
Comments