Jurnal de călătorie în Dubai (I)
Prima oara in viata noastra cand avem zbor chiar de Crăciun, în dimineața zilei de 25. Aeroportul e aproape pustiu, iar asta imi da o stare foarte plăcută. Avem 1 bagaj mare, 1 troler de mana, 1 rucsac in spatele lui Radu, 1 gentuta a mea, 1 carut si 1 copil. Numărăm intruna, sa nu uitam nimic. Trauma de la Singur acasa 2, revăzut de sărbători.
EN: It's the first time in our lives when we had to catch a flight right on Christmas, early morning on the 25th. The airport was almost deserted, and this gives me a pleasant vibe. We have 1 large suitcase, 1 hand luggage, 1 backpack Radu is carrying, my handbag, 1 stroller and 1 child. We kept counting, so we wouldn't forget anything. It comes from the Home Alone 2 trauma, seen again during the holidays.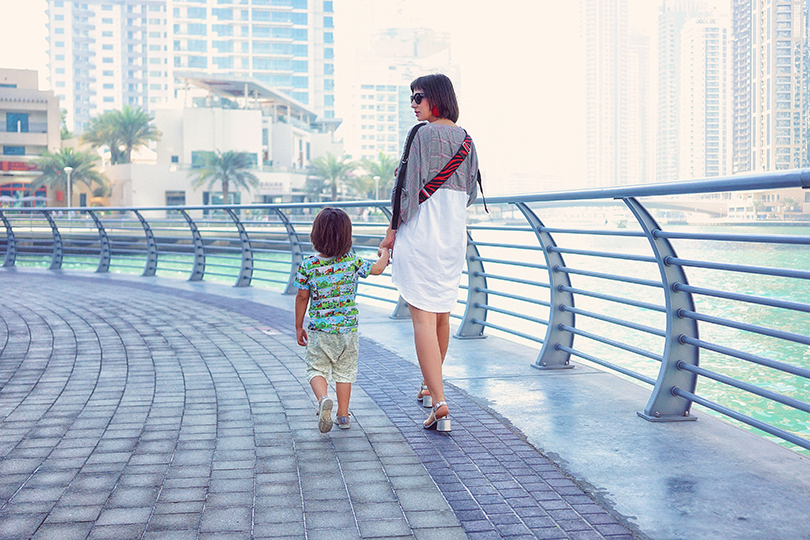 Am aterizat in timpul nopții, pentru ca am plecat din Bucuresti cu intarziere, din cauza unei defecțiuni a avionului. Vlad nu dormise tot drumul, desi se trezise la 8 dimineata sa vada ce ii adusese Mos Craciun, iar acum energia lui era peste limita normală. Cand am iesit din avion m-a întâmpinat o temperatură perfectă si un miros placut. Fiecare tara are mirosul ei, stiti doar. La ieșirea din aeroport, am dat de taximetriștii lor, care seamănă cu ai noștri. "Taxi negru pentru voi." O spunea cu asa o siguranta, arătând spre copil si bagaje, încât aveam senzația că suntem obligați să luăm unul negru si nu unul clasic, ca și când nu ar fi fost legal sa călătorim altfel. Dar completarea cu "Startul e acelasi" m-a facut sa inteleg ca e doar alternativa mai scumpă. Taxiul galben ne-a adus la hotel.
Cand am intrat in camera am avut prima surpriză extrem de plăcută a vacantei: camerele la acest hotel recent deschis (Renaissance Downtown) erau incredibil de mari. Cam cat tot apartamentul meu de 3 camere din copilărie, din Drumul Taberei, Str. Meseriasilor. De îndată ce concierge-ul care ne insotea a părăsit camera, eu si copilul am început să alergam dintr-un capat in altul. Usor derutati din cauza schimbării fusului orar, dar și înfometați după drum, am comandat o pizza si un platou de fructe in camera. Ne-am suit in varful patului si le-am savurat, în timp ce aflam de la BBC ca s-au inchis școlile in Ho Chi Minh (din care va scriu acum), pentru ca vine taifunul. Am adormit imaginandu-mi cum Tembin ne distruge planurile vacanței din Vietnam.
A doua zi ne-am trezit cu greu la ora 10, ora lor. Am fugit spre micul dejun, unde ne așteptau Adela, Radu si Alexandru. Nu imi venea sa cred ca in sfarsit se intampla: toti 6 in aceeasi vacanta. Am imbratisat-o pe Adela ca si cand nu as mai fi vazut-o de ani de zile.
Primul loc pe care l-am vizitat (adică locul in care am făcut imaginile de mai sus) a fost Dubai Marina. "Vlad, mergem la Marina".
"Marina, adică dna doctor de la grădiniță?"
….
Plimbarea pe malul apei a fost grozavă. Nu trec masini, deci e super safe pentru copil, iar lumina reflectata din zgarie nori e foarte plăcută.
"Mama, blocurile astea zgarie planetele. Zgarie stelele, mama, nu norii."
Am mâncat la un restaurant ales la întâmplare, chiar pe malul apei, miel, pui cu cus cus, iar Vlad niste paste si niste legume crude.
Aveam rezervat un zbor cu hidroavionul, asa ca – extrem de entuziasmați – am plecat înspre hotelul din fata căruia isi lua zborul. A fost cea mai tare experienta petrecută în Dubai, din punctul meu de vedere. Pleaca de pe apa, aterizează pe apa, si face un tur al orasului absolut spectaculos. Apusul a fost de vis! Vlad nu l-a prins, pentru ca dupa 5 – 7 minute de la decolare a adormit bustean. Era asa de fericit ca urmeaza sa meargă cu "avionul care merge si pe apa", încât nu a mai vrut să doarmă la prânz. Si a adormit pe scaunul lui, unul dintre cele 9 disponibile pentru turiști. Al 10-lea e al pilotului. Radu a stat fix lipit de el.
Cina am luat-o la hotel, tot in 6. Apoi a urmat o plimbare pe jos pana la Dubai Fountain. Abia acolo s-a trezit si Vlad, transportat în carut pana atunci, si a protestat ca jocurile de apa ale fântânilor, pe muzica din Misiune Imposibilă, au fost prea scurte. Mai văzusem ceva similar in Kuala Lumpur, aceeasi agitatie, la fel de multă lume, dar fantanile de aici au fost peste, parca.
Seara primei zile am incheiat-o tot cu un room service, pentru ca noua ne era in continuare foame la ore la care restaurantele hotelului erau deja inchise.
Pe la 1:30, ora lor, am reusit sa il adormim pe Vlad si el, deodata, pe noi.
Asta a fost prima zi in Dubai.
In poze port: rochie Zara, sandale & Other Stories, geantă Marc Jacobs, ochelari Burberry.
EN: We landed during the night, because our flight from Bucharest was delayed, because of a technical problem. Vlad hadn't slept at all during the flight, even though he had woken up at 8 am to see what Santa left for him, and now his energy level was above normal. When we exited the plane I was greeted by a perfect temperature and a pleasant smell. Each country has its own smell, you know. Upon coming out of the airport, we met their taxi drivers, which are much like ours. "Black taxi for you." He was saying it so confidently, pointing to the child and luggage, that we felt we had to take a black one instead of a classical one, like it wasn't legal to travel any other way. But then they said "the start is the same" and we understood that it's just a more expensive alternative. The yellow taxi took us to the hotel.  
When we entered the room, we had the first extremely pleasant surprise of this trip: the rooms in these recently opened hotel (Renaissance Downtown) were incredibly large. About the size of my entire 3 bedroom apartment from my childhood,  from Drumul Taberei, Str. Meseriasilor. As soon as the concierge which accompanied us left the room, the child and I started running from one end to the other. Slightly confused by the jet lag, but also starved after the trip, we ordered a pizza and a fruit platter to our room. We climbed into bed and devoured them, while finding out on BBC that the schools in Ho Chi Minh (where I am writing to you from) were closed, because the Taifun was coming. I fell asleep while imagining how Tembin is destroying our Vietnam holiday plans.
The next day we hardly could get up at 10 am. We ran to get some breakfast, where Adela, Radu and Alexandru were waiting for us. I could hardly believe that it was finally happening: all 6 of us on vacation together. I hugged Adela like I haven't seen her in years.
The first place we visited (which is where we took the pictures above from) was Dubai Marina. "Vlad, we're going to the Marina".
"Marina, our doctor from kindergarten?"
….
Walking along the water was great. There are no cars driving by, so it's super safe for the child, and the light reflecting in the skyscrapers is very pleasant. 
"Mum, these blocks are scraping the planets. They're scraping the stars, mum, not the clouds." 
We had lunch at a restaurant we randomly picked, right on the water shore, lamb, chicken with cous cous, and Vlad had some pasta and raw vegetables.
We had a flight with the hydro jet booked for us, so- extremely excited- we left towards the hotel where it would take off from. It was the best experience we had in Dubai, in my opinion. It would take off and land on water, and it takes an absolutely spectacular city tour. The sunset was dreamy! Vlad didn't get to see, because 5 – 7 minutes after take off, he fell asleep. He was so happy was about to go on a "plane that also goes on water", that he skipped his afternoon nap. And so he fell asleep in his seat, one of the 9 available for tourists. The 10th was for the pilot. Radu sat right next to it.
We had dinner at the hotel, all 6 of us. Then we took a walk to the Dubai Fountain. It was only there that Vlad woke up, after being carried in his stroller, and he complained that the water shows, tuned to the music from Mission Impossible, have been too short. We had something similar in Kuala Lumpur, the same fuss, just as many people, but the fountains here seemed better.
On the evening of the first day we ordered room service again, because we kept being hungry at hours when the hotel's restaurants were already closed.
At about 1:30 am, we succeeded to put Vlad to sleep, at the same time with ourselves.
That was the first day in Dubai.
In the pictures I am wearing: Zara dress, & Other Stories sandals, Marc Jacobs bag, Burberry glasses.
Comments