Trei culori de primavara
Anul acesta cateva culori tomnatice si-au facut aparitia in siluetele de primavara-vara si adevarul e ca par foarte proaspete atunci cand sunt alaturate unor materiale fluide precum cupro sau matasea. Iata cum le-as purta eu:
EN: This year a few autumn colors have appeared in the spring-summer silhouettes and the truth is they look very fresh next to flowing fabrics such as cupro or silk. Here's how I would wear them:
Asadar, eu le-as alatura culori tari, de vara, pentru a aduce intreaga tinuta intr-o zona estivala: de exemplu daca porti un trench verde inchis, asorteaza niste bratari roz aprins sau un tricou portocaliu neon. Daca alegi portocaliul ars pe care l-am folosit eu ca laitmotiv pentru una dintre tinutele de mai jos, deschide-l cu o pereche de pantofi galben ananas.
EN: So, I would put strong summer colors next to them, to give the entire outfit a breezy look: if you are wearing a dark green coat, match some hot pink bracelets or an orange neon t-shirt. If you are choosing the burnt orange I have used as a main motif for one of the outfits below, brighten it up with a pair of pineapple yellow shoes.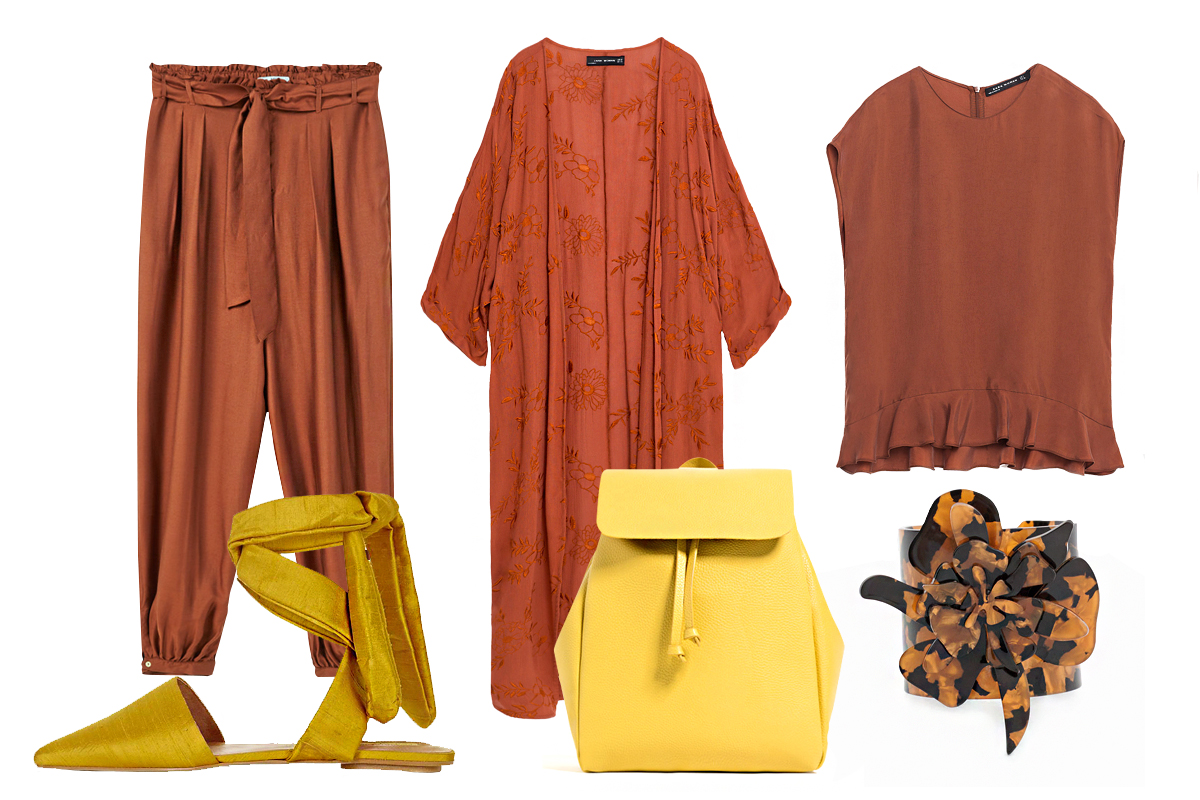 Pantaloni Mango, bluza Zara, kimono Zara, bratara Mango, rucsac Zara, pantofi Toshop.
Portocaliul ars este preferatul meu pentru aceasta vara- imi aduce animte de vasele de ceramica arsa la cuptor si ma duce cu gandul la o vacanta plina de arome grele de lemn si nisip in Maroc. Mi se pare o culoare deopotriva linistitoare si rustica, ideala pentru o vara boema, petrecuta cu picioarele in nisip sau culegand flori undeva la o cabana de la munte.
EN: Mango pants, Zara top, Zara kimono, Mango bracelet, Zara backpack, Topshop shoes.
Burnt orange is my favorite for this summer- it reminds me of ceramic vases burnt in the oven and it makes me think of a vacation filled with strong wooden flavors and sand in Morocco. I find it's both soothing and rustically, ideal for a bohemian summer, spent barefoot in the sand or picking flowers somewhere in the mountains.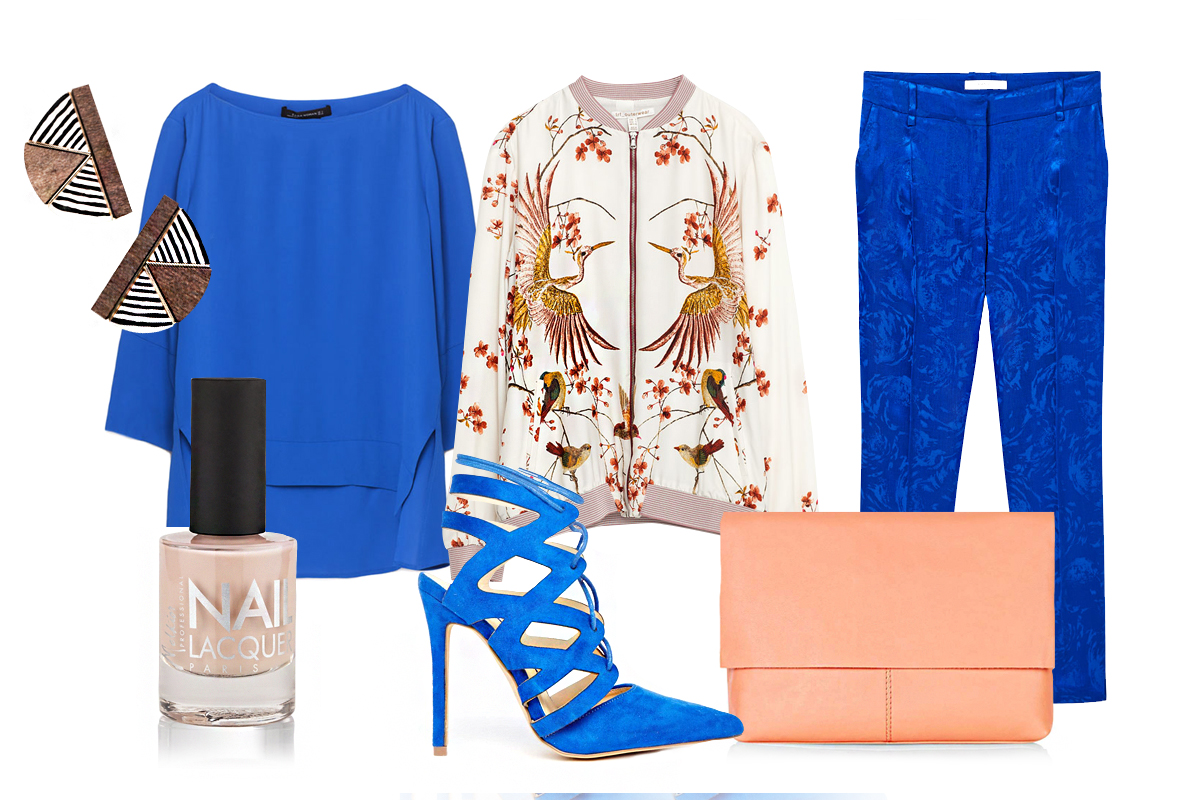 Pantofi Asos, oja Melkior, geanta Topshop, bluza Zara, pantaloni Mango, bomber Bershka, cercei Zara. 
Pantone recomanda, alaturi de inca alte 9 culori, sa folosim Snorkel Blue in garderoba de vara. Eu nu am putut sa rezist in a inchipui o tinuta (aproape) monocroma si am spart albastrul acesta incredibil cu nuante soft de roz pal si cateva motive florale japoneze. As purta tinuta asta la un eveniment casual, undeva intr-o gradina plina de flori. Iar daca vremea decide sa se schimbe brusc, e bine ca o sa am la mine o jacheta care sa-mi tina de cald.
EN: Asos shoes, Melkior nail polish, Topshop bag, Zara top, Mango pants, Bershka bomber, Zara earrings. 
Beside other 9 colors, Pantone recommends using Snorkel Blue for the summer wardrobe. I couldn't resist picturing an (almost) monochrome outfit and I have broken this incredible blue with soft pale pink shades and a few Japanese flower motifs. I would wear this outfit for a casual event, somewhere in a garden full of flowers. And if the weather decides to change all of the sudden, it's good to have a jacket to keep me warm.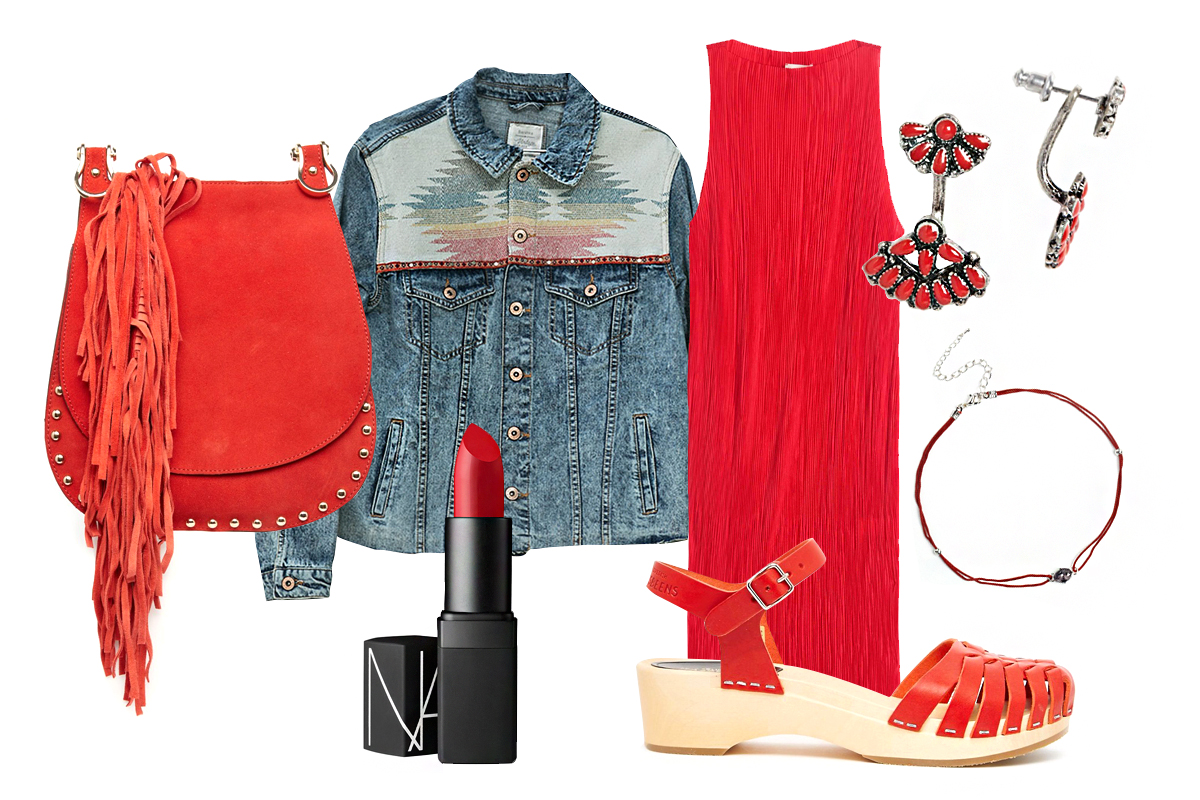 Geanta River Island, jacketa Bershka, rochie HM, colier& cercei Asos, saboti Sweedish Hasbeens, ruj Nars.
Primavara aceasta in mod sigur este una dintre cele mai "aprige": dupa un albastru tare urmeaza un rosu puternic. Fiesta este si ea una dintre culorile primaverii conform Pantone, asa ca mi-am imaginat o tinuta de weekend lejera. Cu cateva motive western, eu cred ca e fix ce trebuie pentru un concert in aer liber, pentru un picnic alaturi de prieteni sau pentru o cina super-casual intr-o zi de… miercuri!
EN: River Island bag, Bershka jacket, H&M dress, Asos necklace and earrings, Sweedish Hasbeens clogs, Nars lipstick.
This spring is definitely one of the "hottest": after a strong blue comes a hot red. Fiesta is one of the spring colors according to Pantone, so I have pictured a relaxed weekend outfit. With a few Western motifs, I think it's just the right thing for an open air concert, for a picnic with friends or for a super-casual dinner on a…Wednesday! 
Comments