Un tort pentru orice ocazie
Cele mai bune torturi se mananca alaturi de persoanele dragi, iar in ultima vreme eu am inceput sa cochetez foarte mult cu ideea de torturi personalizate. La fiecare aniversare sau eveniment mi-a placut sa regasesc tematica nu doar in dress code sau in decorul petrecerii, ci si in torturile sau prajiturile servite.
EN: The best cakes are those shared with loved ones, and lately I have become very fond of the idea of personalized cakes. At each anniversary or special event, I liked finding the theme not only in the dress code or in the decorations, but also in the cake and cookies served.
Asa cum obisnuieste in fiecare sezon,
Grace Couture
are niste produse noi si niste idei de torturi nu doar delicioase, dar si absolut fermecatoare, pentru ocaziile speciale. Eu am ales sa va arat trei dintre ele si mi-a fost tare greu sa fac aceasta selectie! Fiecare tort este potrivit unei ocazii speciale si am ales si cate o tinuta perfecta care sa te insoteasca la aceste evenimente.
Rochie COS, pantofi Mango, bratara Uterque, geanta Edie Parker, ruj Charlotte Tilbury.
Pentru un botez am ales un tort elegant dar totusi jucaus – o multime de flori superbe si o culoare linistitoare si vibranta. Iar tinuta, desigur, trebuie sa fie fun, colorata si cool – asa ca am ales o rochie si niste pantofi foarte "cuminti", in niste culori supra-saturate si niste accesorii care sa faca tot oufitul sa exprime bucurie!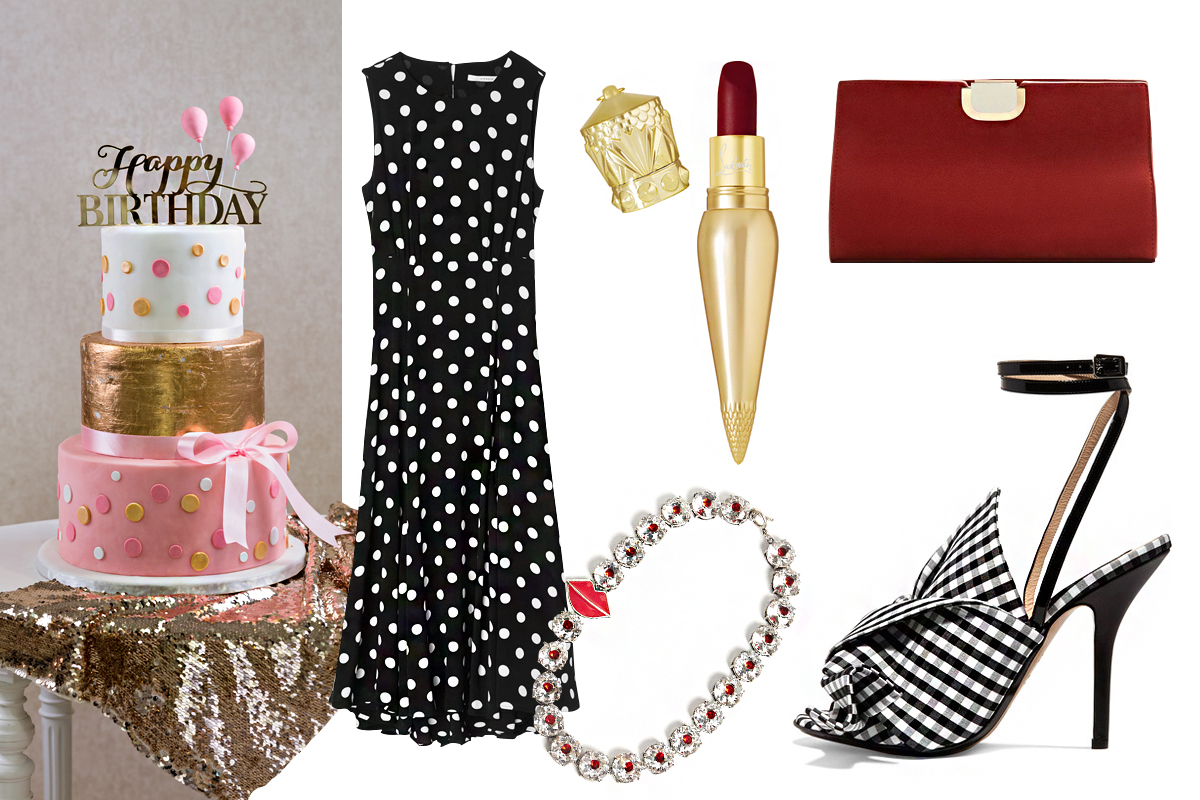 Rochie si colier Uterque, pantofi No21, geanta Mango, ruj Louboutin.
In caz ca mergi la ziua de nastere a unui copil, am ales aceeasi idee de imprimeuri sofisticate, care insa pastreaza o doza sanatoasa de umor. Rochia aceasta impreuna cu pantofii devin amuzante, iar accesoriile si rujul rosu dau acea nota necesara de eleganta. Tortul este ideal pentru aniversarea unei fetite, eu am fost fermecata de confetiile aplicate care m-au inspirat sa gandesc o tinuta plina de energie.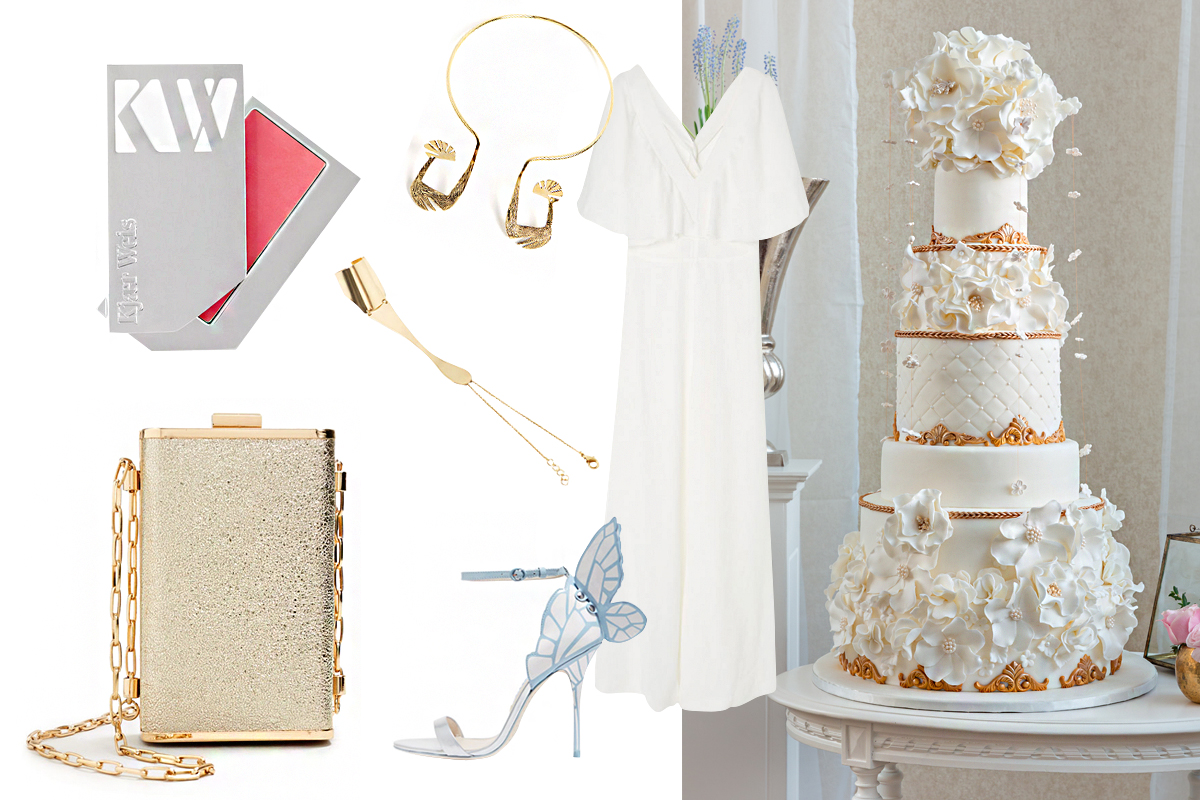 Salopeta Uterque, mianudiera Mango, pantofi Sophia Webster, inel& colier Uterque, blush Kjar Weiss.
In caz ca se apropie ziua cea mare, adica ziua nuntii, mi s-a parut potrivit sa faci lucrurile ca la carte. Sigur, poti alege un tort mic, insa parca pur si simplu nu ai cum sa rezisti unui tort foarte inalt, cu multe etaje si plin de flori! Am pornit de la el cand am creat tinuta – o salopeta alba simpla, care sa lase loc unor accesorii statement. Un colier impresionant care sa decoreze baza gatului si un inel-bratara care sa imbrace mana vor fi elementele centrale ale unei tinute simple si elegante. Nu am putut sa rezist sa nu aleg o pereche de pantofi statement – indraznesc sa cred ca i-ai putea purta si dupa ziua nuntii cu succes alaturi de o pereche de jeans si o camasa de matase!
Nu uitati sa cautati pe site-ul
Grace Couture
 cat mai multe idei de torturi care sa va faca orice eveniment cu adevarat special!
EN: As they usually do in each season, Grace Couture has some new products and ideas for cakes which are not only delicious, but also absolutely charming, for special occasions. I chose to show you three of them and it was really hard for me to make this selection! Each cake is suitable for a special occasion and I have put together an outfit which is perfect for any of the events.
For a baptism I have chosen an elegant yet playful cake- plenty of gorgeous flowers and a soothing but vibrant color. And the outfit, of course, must be fun, colorful and cool- so I picked a very "demure" dress and some shoes, in some highly-saturated colors and some accessories which make the entire outfit express joy!  
In case you're going to kid's birthday party, I have chosen the same idea of sophisticated prints, which still maintain a healthy dose of humor. This dress together with the shoes are funny, and the accessories with the red lipstick give that mandatory elegant touch. The cake is ideal for the anniversary of a little girl, I was charmed by the confetti, which inspired me to put together an outfit full of energy.  
In case the big day is coming up, meaning your wedding day, I thought it was appropriate to do things by the book. Sure, you could pick a small cake, but it's almost impossible to resist a really tall cake, with many tiers and full of flowers! That's where I started the outfit from- a plain white jumpsuit, which allows room for some statement jewelry. An impressive necklace to decorate your neckline and a ring- bracelet to embellish the hand will be the main pieces of a simple and elegant outfit. I couldn't help but pick a statement pair of shoes- I dare to think that you could wear them even after the wedding day with a pair of jeans a silk shirt!  
Comments