3 Outfits
Imi place ca la inceputul unui sezon sa imi aleg cateva teme – poate sa fie un material sau o culoare – ceva care sa dea directia tuturor cumparaturilor mele din acel sezon. Ca deseori imi iau ochii lucrurile din vitrina, ei bine asta e o alta poveste! Intentia conteaza, nu?
EN: At the beginning of each season, I like to choose a few themes- it can be a fabric or a color- something to set the tone for all my shopping that season. That I often end up buying the stuff in the shop displays, well that's a completely different story. But it's the thought that counts, right?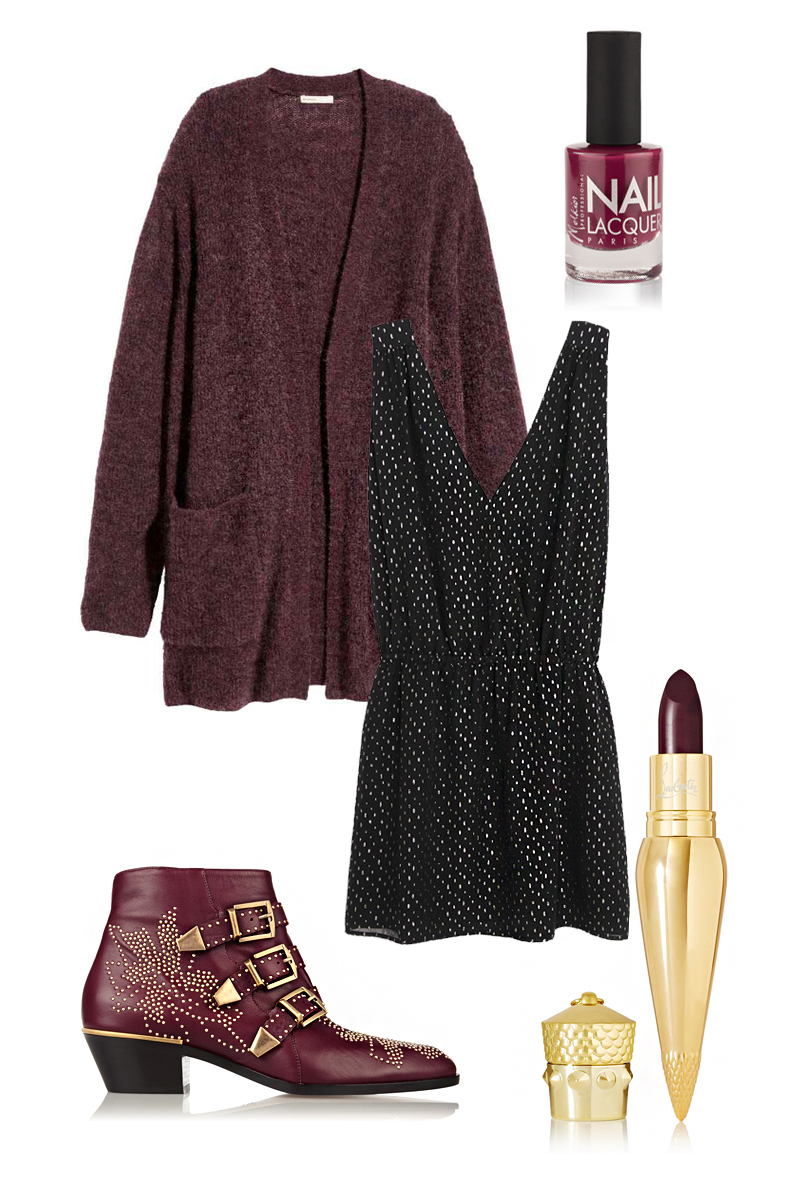 Cardigan H&M, botine Chloe, oja Melkior, ruj Christian Louboutin, rochie Mango.
Desi visiniul e considerat mai mult o culoare tomnatica, acesta continua sa ma inspire foarte mult. Mi-ar placea sa il port nu doar pe unghii sau pe buze ci si intr-o piesa statement precum un cardigan lung si pufos pe care sa-l arunc pe mine in fiecare dimineata racoroasa sau mai intunecata de primavara – si oho, am avut destule anul asta.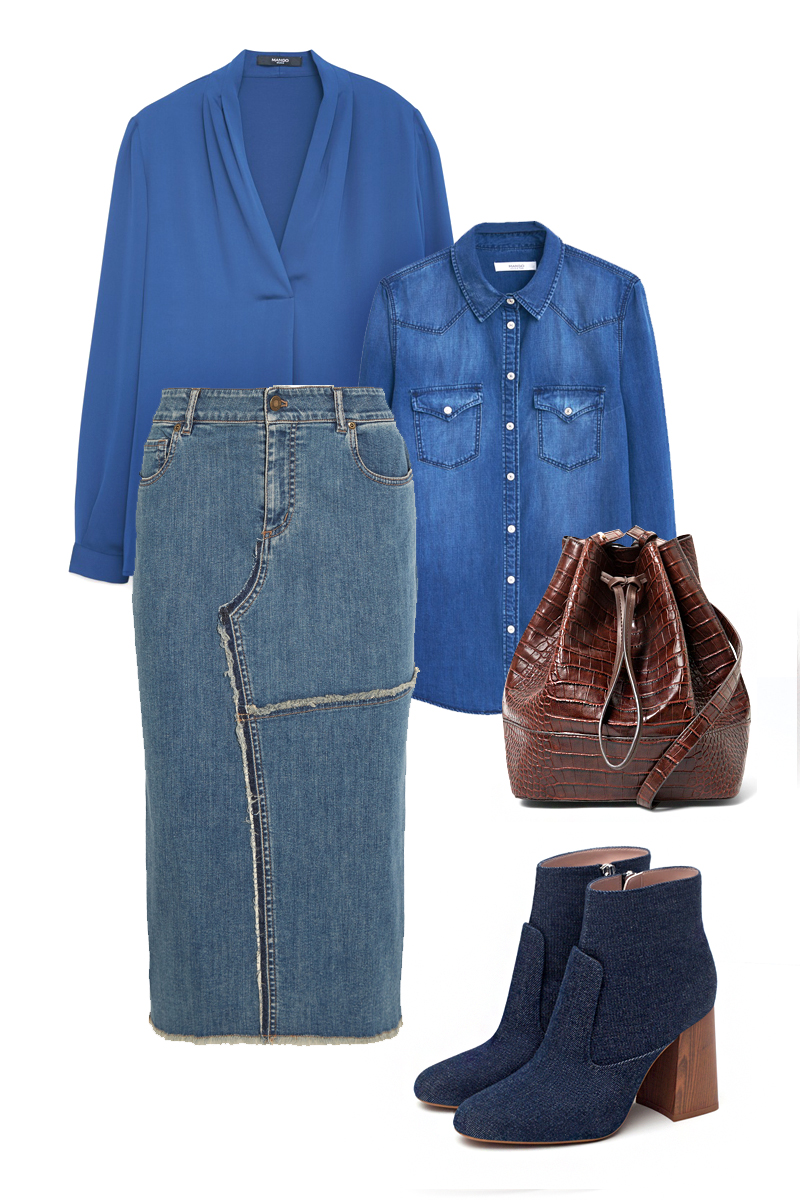 Fusta Tom Ford, botine Zara, bluza Mango, geanta Mango.
Despre denim s-au scris mii de randuri- este cool, este modern, este usor de purtat si rezista la murdarie (serios, cu Vladut, abia acum incep sa apreciez aceasta calitate!). O tinuta intreaga care sa aiba tema denim mi s-a parut o provocare foarte interesanta- insa nu m-am abtinut si am "spart" putin sablonul cu o geanta maro, ca sa balanseze putin.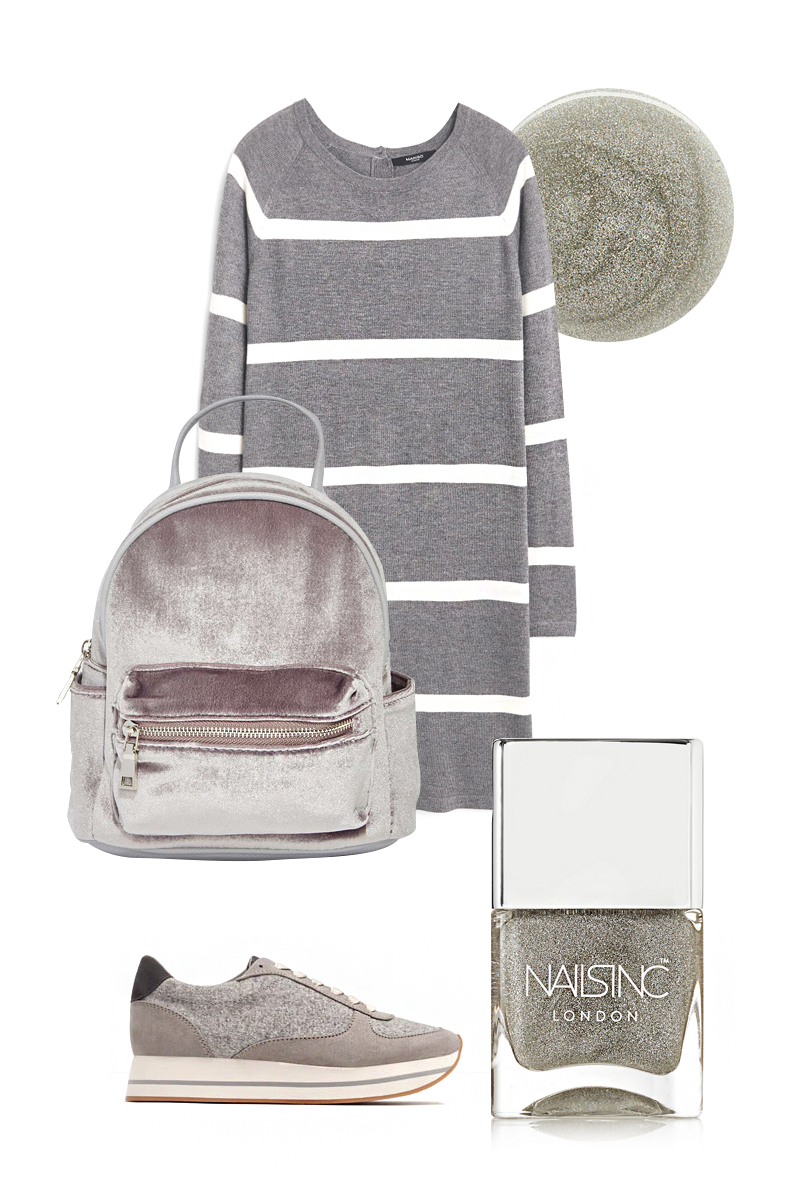 Ghiozdan Nasty Gal, tenisi Zara, rochie Mango, oja Nails Inc.
Primavara aceasta a cam inceput cu stangul – mohorata, suparata, ploioasa si uneori chiar friguroasa. Pentru zilele cand totul e urat si nu-ti vine sa te dai jos din pat, am pregatit o tinuta in tonuri de gri deschis care sa te invioreze putin. Albul poate fi usor pretentios cand e urat afara, insa griul este deopotriva luminos si potrivit vremii mohorate.
Care tinuta va place cel mai mult si considetati ca vi se potriveste voua cel mai bine?
EN: Cardigan by H&M, Chloe ankle boots, Melkior nailpolish, lipstick Christian Louboutin, dress by Mango.
Although burgundy is considered more of an Autumn color, it continues to inspire me a lot. I would like to wear it not only on my nails and lips, but also in a statement item like an oversized and fluffy cardigan , which I can throw on each chilly or darker spring morning- and, boy, did we have plenty of those this year.
Skirt by Tom Ford, Zara ankle boots, Mango top, Mango bag.
Thousands of lines have been written on denim- it's cool, modern, easy to wear and lasts long (seriously, ever since I had Vlad, I started appreciating things like this!). I found an entire denim themed outfit to be a very interesting dare- but I couldn't help myself and I "broke" the pattern with a brown bag, to balance it out a little.
Nasty Gal backpack, Zara sneakers, Mango dress, nailpolish by Nails Inc.
This spring started off on the wrong foot- gloomy, grumpy, rainy and even cold. For the days when everything is ugly and you don't feel like getting out of bed, I have prepared an outfit in light grey tones to cheer you up a bit. White can be slightly pretentious on bad weather, but grey is both luminous and suitable for gloomy weather.
Which outfit do you like best and which do you consider suits you best?