Un weekend stylish
Dupa o saptamana intreaga in care incerci sa coordonezi cat mai bine tinutele, in care jonglezi cu outfit-urile de birou si cele de iesit in oras, in weekend esti tentata sa porti un trening 2 zile? Si eu! Tocmai pentru ca e destul de greu sa te concentrezi cand de fapt ar trebui sa te relaxezi si sa te simti bine, m-am gandit ca trei propuneri de tinute ar prinde bine.
EN: After a whole week of trying to put together the best outfits you can, after joggling between office and evening wear, during the weekend do you feel tempted to wear sweat pants for 2 days? Me too! Since it's really hard to focus when in fact you should be relaxing, I thought that 3 outfit proposals would be just what you need.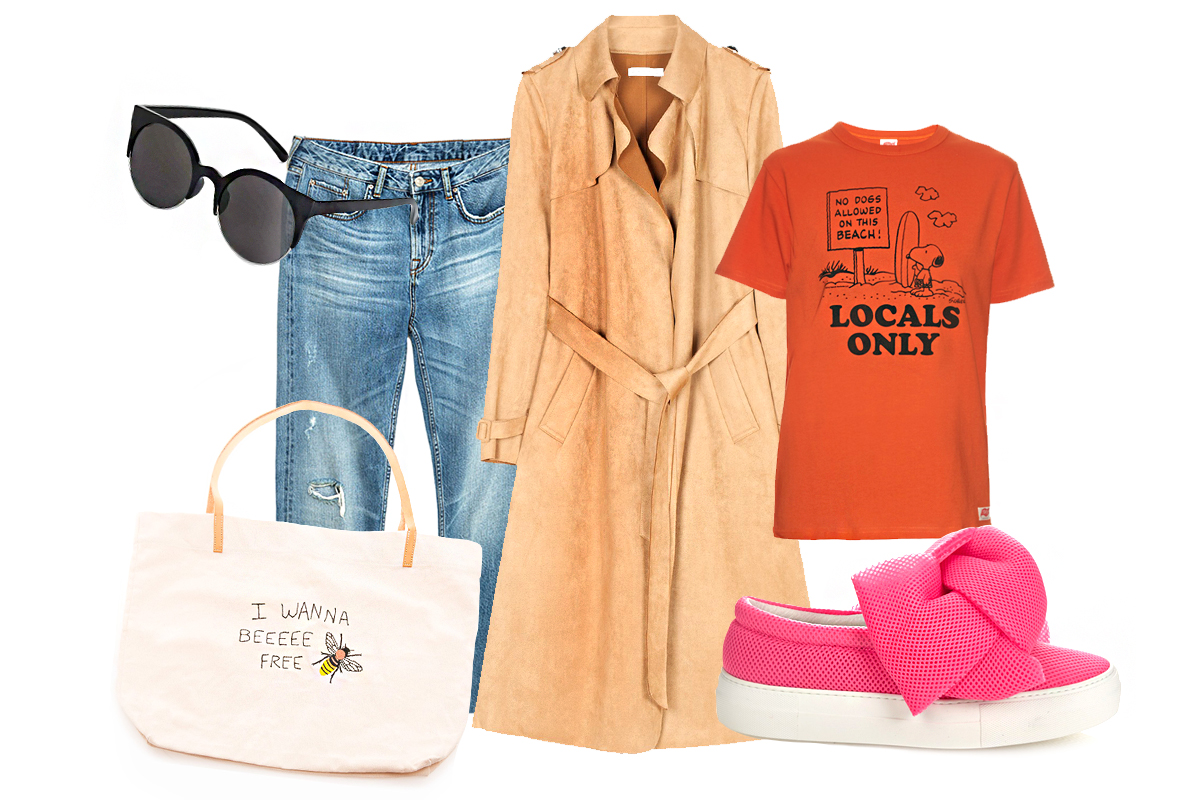 Daca iesi la un targ de moda sau chiar si un targ de artizanat si mancare locala, vrei sa te imbraci in ceva comod, dar cool. Blugii nelipsiti in weekend, intr-un croi relaxat, alaturi d un tricou dintr-un bumbac moale, usor prespalat si niste tenisi cool? Ah, ce simplu si usor! Adauga o piesa surprinzatoare, precum este acest trench din imitatie d piele intoarsa si o geanta din panza si esti gata sa iesi in oras!
Geanta si haina Stradivarius, tenisi Joshua Sanders, tricou Locals only, blugi Zara, ochelari HM.
EN: If you go out for a fashion or even a handmade and local food fair, you want to dress comfortable, but cool. Jeans are a must in the weekend, in a relaxed fit, with a t-shirt made from soft cotton, slightly prewashed and some cool sneakers? Oh, that's so simple and easy! Add a surprising item, like this faux suede coat and a linen bag and you're good to go!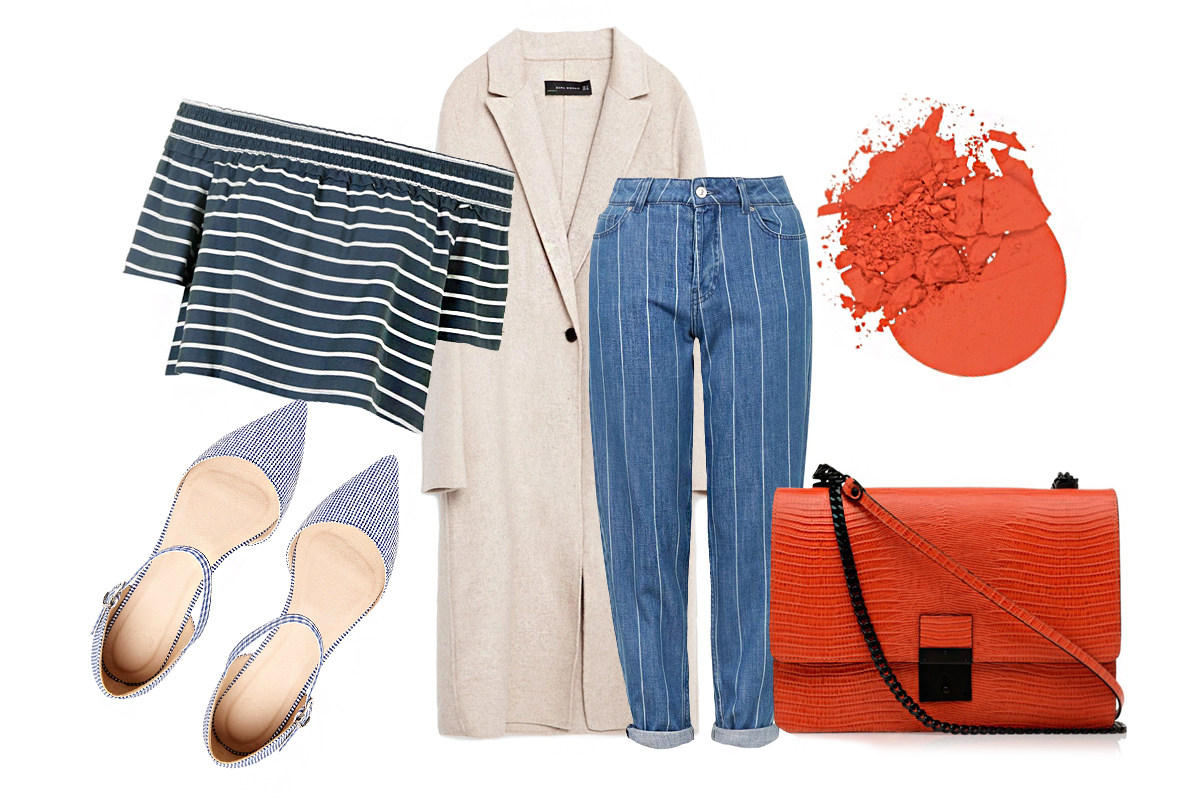 Ai programat o intalnire cu el? Atunci trebiuie sa balanzesi putin sexy cu putin comod si cu putin interesant, ecuatia perfecta. Blugii il vor confuza- talia inalta mereu i-a aiurit pe baieti, dar nu o sa o observe prea mult daca alegi sa porti o bluza cu umerii goi! pantofii trebuie sa fie comozi, mai ales daca va plimbati sau iesiti la o cafea iar accentul de culoare sta mereu in accesorii: in acest caz o geanta portocaliu bogat de la Musette.
Haina Zara, blugi & bluza Topshop, balerini Asos, geanta Musette, fard ochi Melkior.
EN: Are you going out on a date with him? Then you have to balance out a little sexy with something comfortable and something interesting, the perfect equation. The jeans will confuse him- hight waist has been dazzling to boys, but he won't notice if you choose to wear a drop shoulder top! The shoes have to be comfortable, especially if you are going for a walk or a coffee and the color touch is set by the accessories: in this case an orange bag from Musette.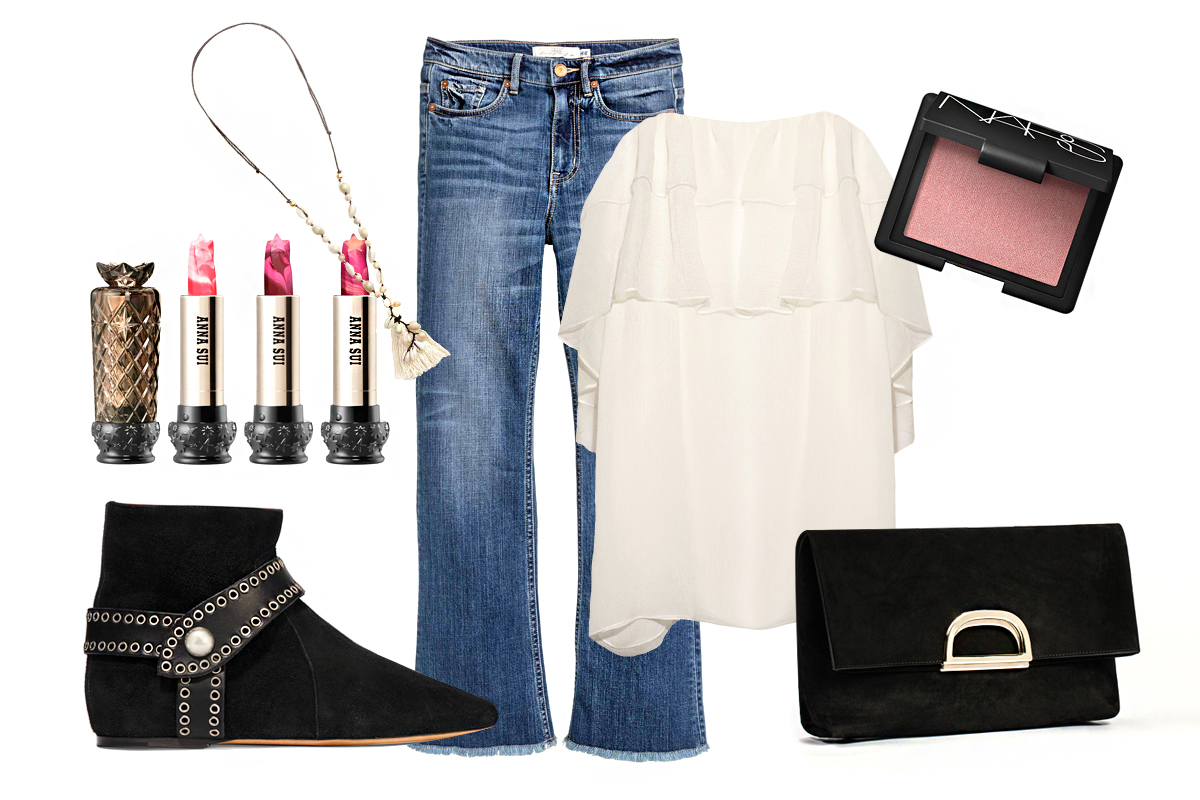 Iesi la un pahar de vin cu prietenele sau la o cina casual? Nu pierde prea mult timp in fata dulapului: o pereche de blugi comozi (si cool- noul model kick flare e un must!), o pereche de botine flat si o bluza delicata o sa te faca sa te simti perfect. Lasa-ti parul natural, poate usor texturizat cu un spray si…suna-ti prietenii!
Ruj Anna Sui, botine Isabel Marant, blugi H&M, bluza Chloe, plic Massimo Dutti, colier HM, fard obraz Nars.
EN: Are you going out for a glass of wine with your friends or for a casual dinner? Don't waste too much time in front of the closet: a pair of comfy jeans (and cool- the new kick flare cut is a must!), a pair of flat ankle boots and a delicate blouse will make you feel perfect. Style your hair in natural look, maybe slightly textured with a spray and…call your friends!