Intai mare la distractie
In anticiparea zilei de 1 mai, v-am pregatit cateva idei de tinute pentru diverse activitati: de la o seara la o terasa pana la un pranz la mare, sunteti acoperite!
EN: As we are all getting ready for the 1st of May, I have prepared some outfit ideas for you: whether it's for an evening out on a terrace, or a lunch at the sea side, you're all covered!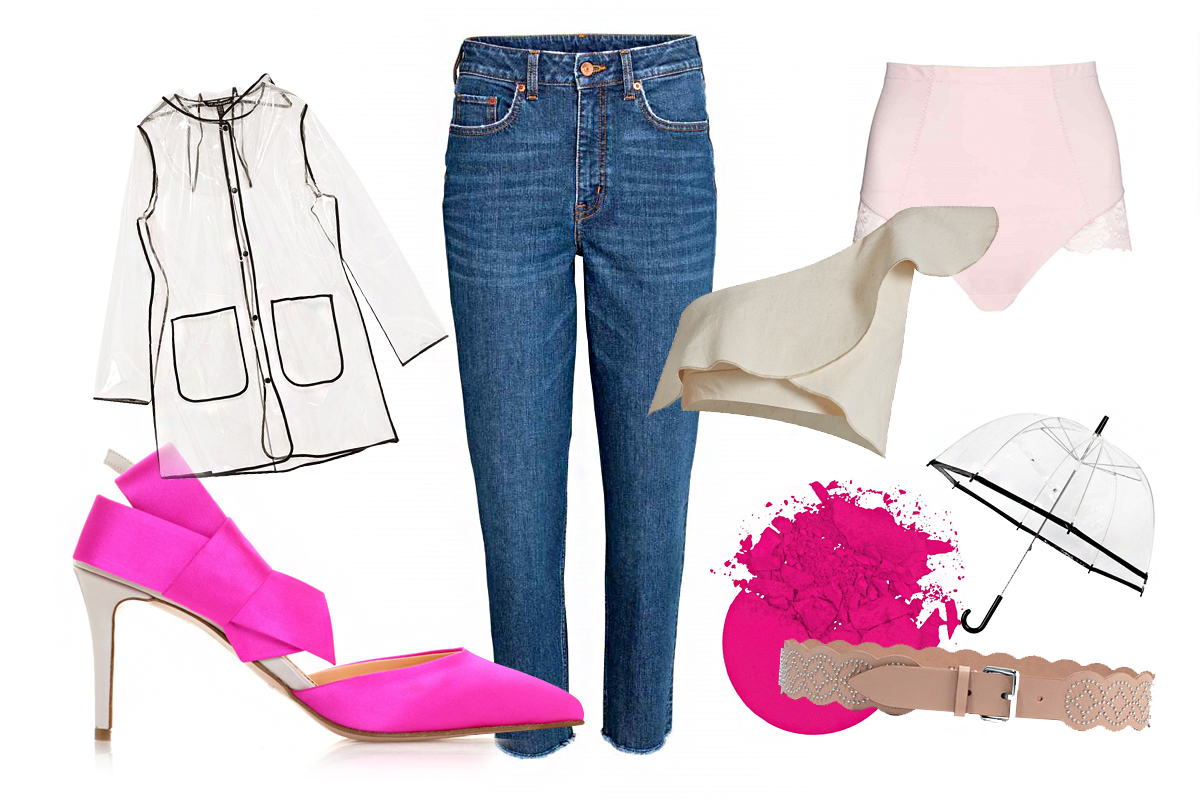 Pelerina de ploaie Zara, pantofi Musette, fard Melkior, umbrela Zoot, blugi H&M, top Isabel Marant, lenjerie H&M, curea Alaia.
In caz ca aceasta zi te prinde in oras, ai ocazia sa incerci cea mai hot culoare a acestui sezon: rozul turbat! Alege cateva elemente cheie fara sa-ti fie teama ca rezultatul final sa fie putin mai excentric: uneori o doza de nebunie prinde bine.  Am ales cateva elemente statement care merg nu doar in acest mix, ci si in unele chiar de-a dreptul elegante. Un top scurt, pe un singur umar poate sa fie ideal si alaturi de o pereche de pantaloni cu talie inalta la una dintre nuntile acestei veri, insa eu am ales sa ii mixez cu o pereche de jeansi clasici, cu talie inalta. Pentru preventie pelerina de ploaie cool si o umbrela nu au cum sa strice, mai ales ca vremea este destul de imprevizibila. Nu uita de cele cateva elemente care definitiveaza look-ul: o curea romantica, o pereche de chiloti modelatori cu talie inalta si un fard de pleoape intr-o culoare vibranta!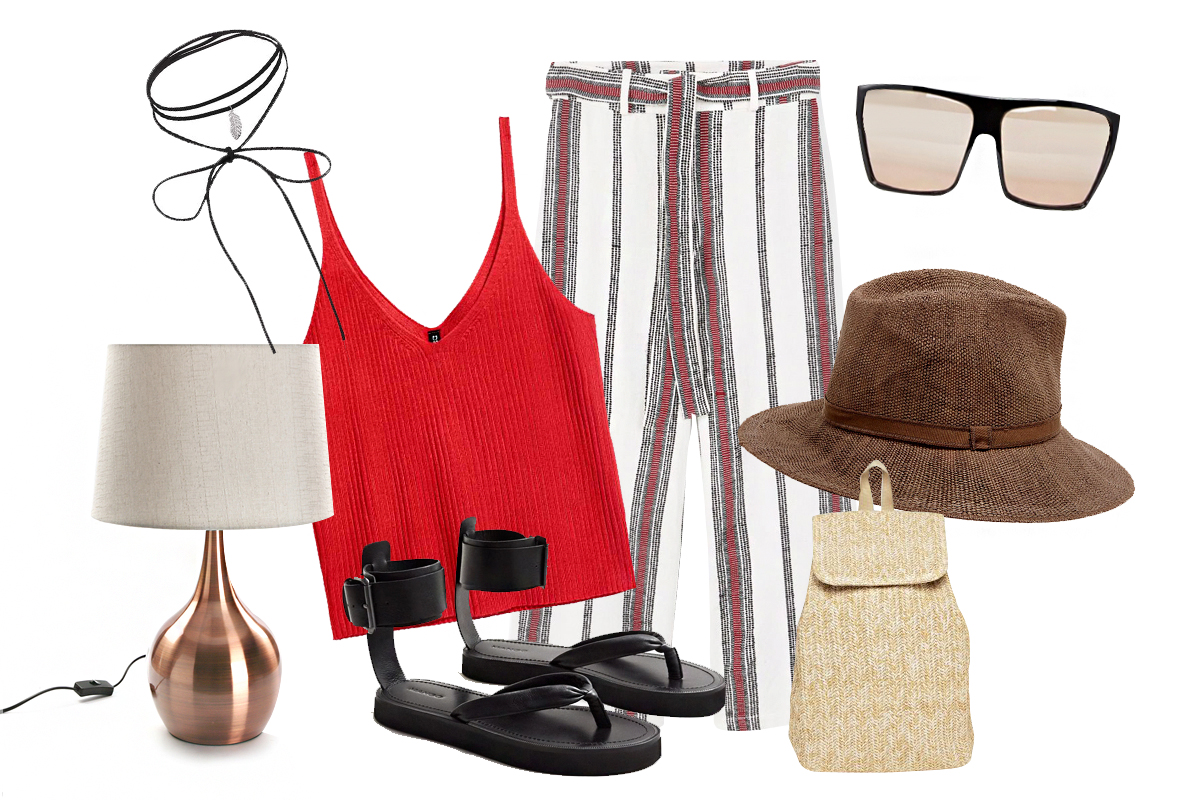 Sandale si pantaloni Mango, top H&M, palarie Zara Home, ghiozdan si ochelari Asos, lampa Combic, chocker Zoot.
Fugi la mare? Perfect! Ai aici tinuta ideala: sandale cu bareta pe glezna, un top tricotat, o pereche de pantaloni din in, un rucsac din rafie si cateva "ustensile" de prevenit soarele agresiv: ochelari si palarie! Ok, poate cao sa fie nevoie sa iei cu tine si un pulover, poate si o pereched e sosete, insa nu-i asa ca aceasta tinuta varatica pare ideala pentru un cocktail cu picioarele in nisip?  Poate ca va intrebati ce-i cu lampa? Ei bine lampa este o achizitie superba pentru acasa, intr-un aramiu care se va asorta cu bronzul tau! In plus mi s-a parut atat de frumoasa si potrivita cu ideea de vara, incat nu am putut sa rezist!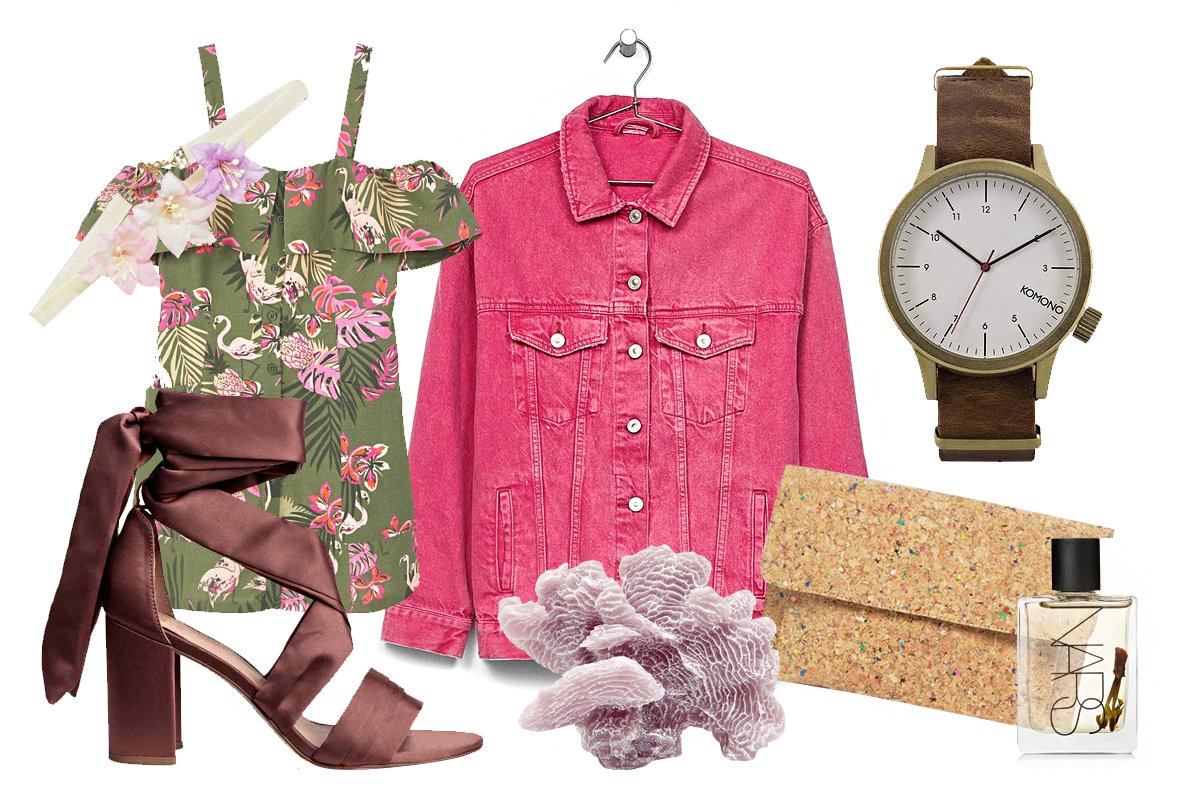 Sandale H&M, rochie Mango, jacheta Bershka, clutch Asos , ulei de corp Nars, lumanare Zara Home, ceas Zoot, bentita de par Asos.
Petrecere de 1 mai la niste prieteni acasa/ la piscina/ la o terasa? Atunci pregateste o tinuta feminina, sexy si fun: am ales o rochie de in cu un print varatic, o jacheta din denim roz si niste sandale cu bretele pe picior aramii. Un ceas masculin o sa balanseze tot outfitul, iar uleiul de corp este obligatoriu pentru picioare hidratate, cu o stralucire discreta.
Ce faceti voi insa de 1 mai si cu ce va imbracati?
EN: Rain coat by Zara, shoes by Musette, Melkior eye shadow, Zoot umbrella, jeans by H&M , top by Isabel Marant, lingerie by H&M, belt Alaia.
In case on this day you're out in the city, you can try out the hottest color of the season: crazy fuchsia! Choose a few key elements without being afraid that the end result is a bit eccentric: sometimes a dose of crazy is good. I have chosen a few statement elements which work not only in this mix, but also in elegant ones. An one shoulder crop top can be ideal also with a pair of high waist pants for one of this summer's weddings, but I chose to mix them with a pair of classic high waist jeans. Just to be cautious, a cool raincoat and an umbrella can't hurt, especially since the weather is pretty unpredictable. Don't forget about those elements which complete the look: a romantic belt, a pair of high waist shaping underwear and an eyeshadow in a vibrant color! 
Sandals and pants by Mango, top H&M, hat Zara Home, backpack and glasses Asos, lamp from Combic, choker Zoot.
Running off to the sea side? Perfect! You have the perfect outfit right here: ankle band sandals, a knitted top, a pair of linen pants, a backpack and a few "utensils" against the aggressive sun: glasses and a hat! Ok, maybe you might have to take a sweater along too, maybe even a pair of socks, but isn't this summery outfit just ideal for a sipping a cocktail with your feet in the sand? You might be wondering about the lamp? Well, the lamp is a beautiful acquisition for your home, in a bronze tone which will match your tan! Plus, I think it's so beautiful and goes perfect with the idea of summer, I just couldn't resist!  
Sandals by H&M, dress  by Mango, jacket from Bershka, clutch by  Asos , body oil by Nars, candle  from Zara Home, watch from Zoot, Asos headband.
1st of May party at some friends' house/ at the pool/ on a terrace? Then prepare a feminine, sexy and fun outfit: I have chosen a dress with a summer print, a pink denim jacket and some bronze sandals. A masculine watch will even out the entire outfit, and the body oil is mandatory for hydrated legs, with a touch of shimmer.  
So what are your plans for the 1st of May and what are you going to wear?